2000 Litre All Weather Super Slimline Water Tank
SKU: AW2000SX
Dimensions: 2400L x 565W x 2010H
The All Weather 2000 Litre super slimline rainwater tank stores up to 2000L in an unobtrusive, strong and durable slimline tank that is built to withstand the elements.  With its custom designed curved body to reduce dust and dirt collection all year round.
Made from Food Grade UV20 Polyethylene you can be assured of quality water storage for your home and garden.  All Weather Tanks unique design incorporates holding ports for easy lifting and manoeuvring as well as 4 x 1" BSP Brass fittings (2 at each end).
An integral part of the tank design is the height at 2010mm. This will allow the tank to fit through a standard door, handy, especially if you need to take it through the garage door.
Proudly 100% Australian made & owned.
Fittings
The inlet comes fitted with a 400mm mosquito proof leaf strainer on one end of the tank.
Two quality brass 25mm BSP female outlets and bucket tap outlets are moulded into the tank at the at each end near the base and bucket tap height.
An overflow provision is moulded into the tank and can be fitted on either end. A 90mm overflow is supplied loose.
Please feel free to give our friendly and highly qualified staff a call on (03) 8795 7715 today to discuss custom tank fittings if required.
Tank Colours
Select from our huge range of rain water tank colours we offer.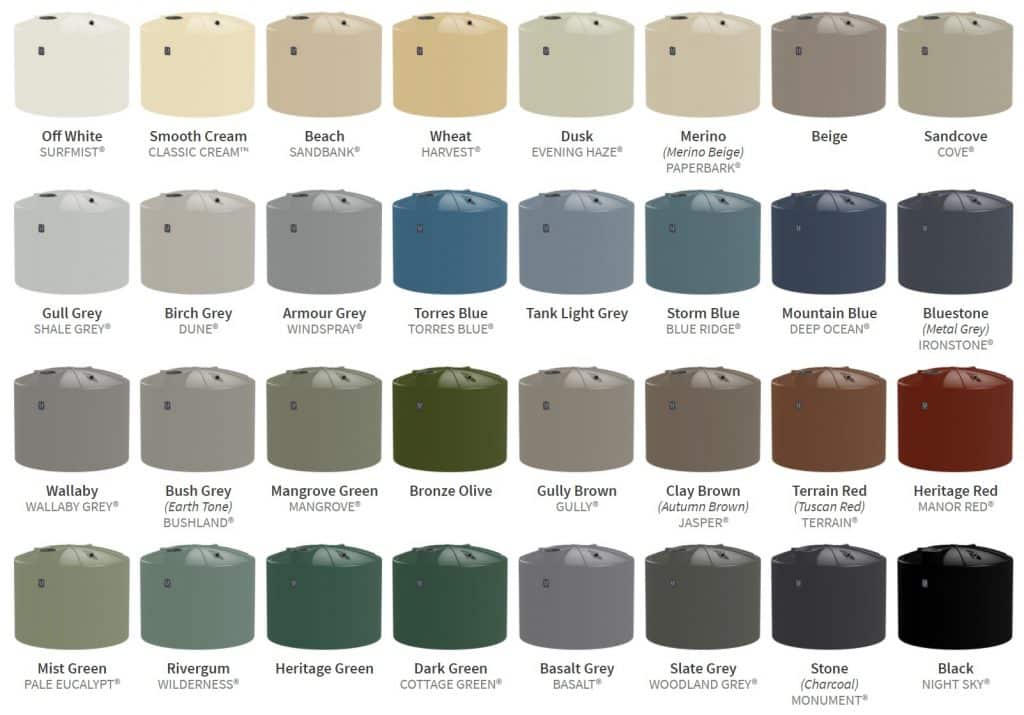 10 Year Manufacturers Warranty
INSTALLATION
Tank must be installed by a licensed plumber.
All threaded fittings to be installed with Teflon Tape and hand tightened only (over-tightening will void warranty).
Tank must be installed on a level, reinforced concrete base 100mm thick, 100mm longer and wider than the tank.
Tank must have a minimum of 20mm clearance on all sides from all solid structures including walls, fences, posts, etc.
Warranty does not cover disconnection or reconnection.
Tanks must be freestanding.
Tank must be installed as per the guidelines in the Australian Standards HB 230-2006 Rainwater Tank Design & Handbook.