Rain Water Tanks Colours
ASC Water Tanks has the largest range of water tank colours in Australia. Whether you are looking for a plastic / poly water tank or a steel water tank, we have a colour to perfectly align with your project or home. Our Slimline Water Tanks and Round Water Tanks all come in the colours below. Our Underdeck water tanks are made in Black mostly, however if you have a requirement to have the under deck tank in a different colour, let us know and we can accommodate. Most manufacturers will include all these colours free, however in some circumstances, there may be a surcharge. Our individual product pages for the water tanks will let you know if there is an additional surcharge for non-standard colours. You can buy from ASC Water Tanks knowing we can match your Colorbond or Dulux colors.
Poly Water Tank Colours:
Tank White / Surf Mist / Off White
Tank Merino / Paperbark / Terrace
Tank Beige
Tank Earthtone / Bushland / Teatree
Tank Autumn Brown / Jasper
Tank Heritage Green / Caulfield Green / Cottage Green / Dark Green
Tank Rivergum / Widerness / Willow
Tank Mist Green / Pale Eucalpyt / Meadow
Tank Smooth Cream / Classic Cream
Tank Wheat / Harvest
Tank Desert Haze / Sandbank
Tank Heritage Red / Manor Red
Tank Mountain Blue / Deep Ocean / Bluestone
Tank Stormedge Blue / Blue Ridge
Tank Birch Grey / Birch / Dune
Tank Light Grey
Tank  Slate Grey / Woodland Grey / Grey Ridge / Thunder Grey
Tank Metal Grey / Ironstone
Tank Black / Ebony / Night Sky
Tank Gull Grey / Shale Grey
Tank Armour Grey / Windspray
Tank  Dusk / Evening Haze
Tank  Charcoal / Monument / Gunmetal Grey
Tank Wallaby
Tank Basalt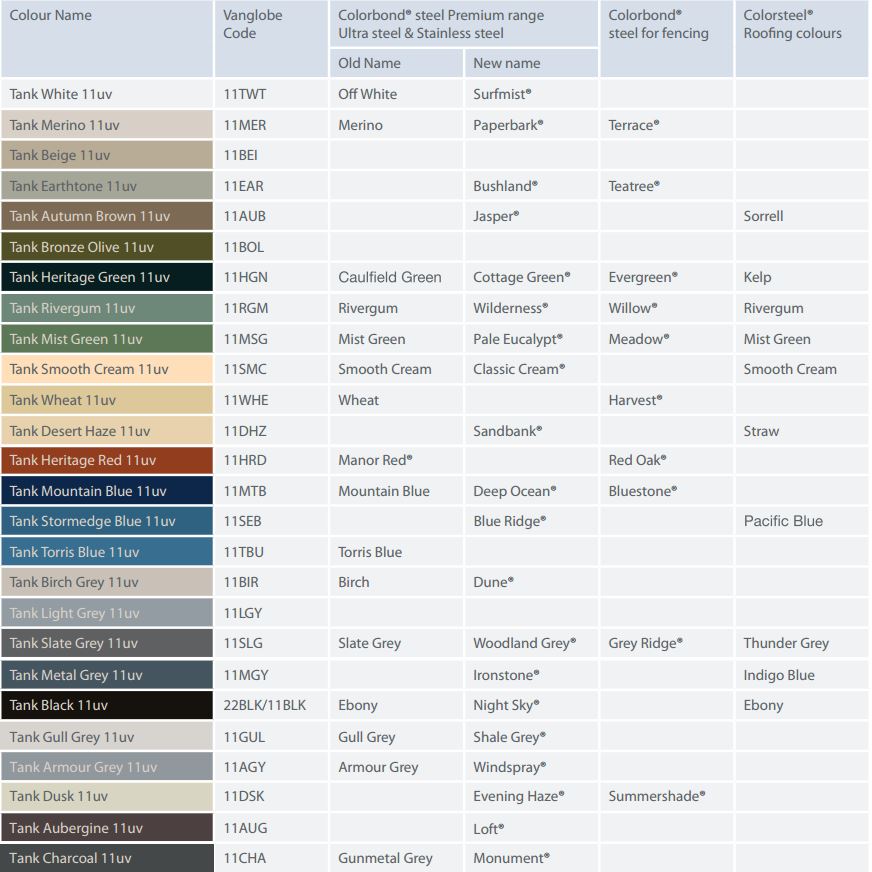 Steel Water Tanks Colours
Steel tanks are a little different to plastic water tanks. Steel tanks come in a limited range of colours from Bluescope. All our steel water tanks are made using Australian made Bluescope Steel. This includes the famous Colorbond steel range from Bluescope. Whilst steel water tanks can be spray painted to suit your requirements, we highly recommend buying tanks that are from our standard range. The colour will last longer and not fade, chip or crack over the years. Our Colorbond steel tank with genuine film come with a 20 year warranty from Bluescope.
Each individual product will advise you of the standards colours that the tank comes with and which ones are spray painted. You do pay more for spray painted tanks.
All steel slimline tanks, whether they be slimline steel tanks, round steel tanks, CFA Steel Tanks or Modline (square rounded edges) are available also in a Galvanized Exterior finish the the Trademarked Aquaplate lining to prevent the steel rusting out from the inside.
Our rural range of steel tanks which start at 25,000LT and go up to 363,000LT, including the famous Kingspan Rhino RT-100, 100000 litre steel tank is available in a large range of Colorbond Colours or Zincalume. The colours are as below.