1050 Litre Pro Plastics Round Water Tank
SKU: PP1050
Dimensions: 880D x 1880H.
Tank Weight: 35KG.
AVAILABLE IN VIC ONLY.
This tank holds ample water for different uses around the home or garden
Pro Plastics is a proudly 100% Australian made & owned, family operated business and all of our products are made right here in Australia. Unlike many tank manufactures, our water tanks are certified to the Australian Standards Specifications AS/NZS 4766. This certifications provides independent assurance that our products are built to last in Australian conditions.
Fittings:
The tank comes fitted with a 300mm mosquito proof leaf strainer fitted @ 12 O'clock.
One quality brass 25mm BSP female outlet is moulded into the tank at the height of your choice.
One 90mm Overflow is supplied loose for your plumber to drill at your leisure.
Please feel free to give our friendly and highly qualified staff a call on (03) 8795 7715 today to discuss custom tank fittings if required.
What colours are available in a 1050 Litre Round Water Tank?
We have over twenty different colours you can choose from. Below is a range of colours we offer in the Pro Plastics 1050 Litre round water tank. Can't find a colour you want? Call us? It may be that we just have not added it the current range. If it's available in plastics, then we can get it for you.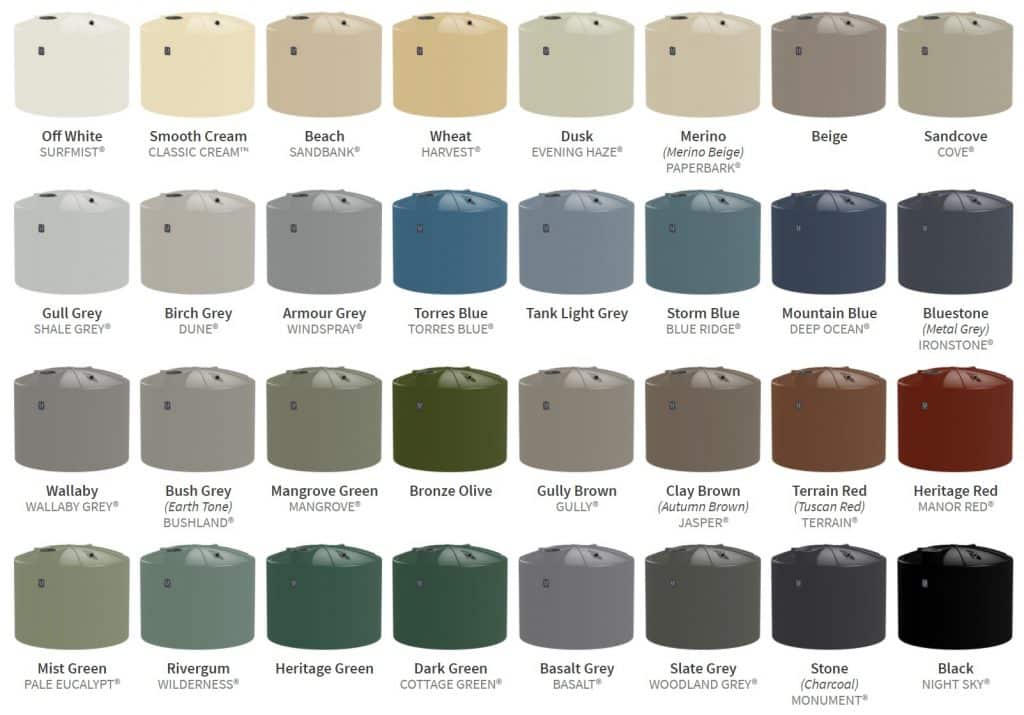 Where do we deliver Pro Plastics 1050 Litre Round Rain Water Tanks?
ASC Water Tanks delivers 1050 litre round water tanks in Victoria and New South Wales. We deliver all over Melbourne, Gippsland, Geelong, Ballarat, Bendigo and into regional Victoria, including places like Shepparton and Wodonga. We also deliver to Sydney and surrounds, including Central Coast and as far north as Newcastle. As part of our delivery area, we come to Canberra for the 1050 Litre round water tank.