10,000 Litre Yarrawonga Round Water Tank
SKU: YW10000
Dimensions: 2700D x 2120H (inlet @ 1900)
Tank Weight: 200KG
AVAILABLE IN VIC ONLY.
The Yarrawonga 10,000 Litre round rain water tank has a diameter of 2700mm and a total height of 2120mm The inlet height on this round rain water tank is 1900mm. This is our most popular 10000 Litre water tank that we sell in and around Melbourne.
We deliver to most of Victoria, so if you need a tank, give us a call and get a quote for freight. If you are in Melbourne Metro, Greater Melbourne, Mornington Peninsula, Geelong and the Bellarine Peninsula, Bendigo, Ballarat or Gippsland, click through and get a freight price on our product page.
This tank is made from 100% food grade polyethylene. We have been distributors for Yarrawonga Plastics for almost 10 years an in that time, we haven't had a single faulty water tank with them. Now that's how you know you are buying a quality product.
We have plenty of pump options too, so if you are in the market for a pump, give us a call and get help from the pump and water tank experts. Call ASC Water Tanks on (03) 8795 7715
Yarrawonga Plastics manufacture our rain water tanks using one piece construction technology. Yarrawonga tanks are only made using Australian UV Stabilised Food Grade Polyethylene Plastic. All Yarrawonga Plastics tanks are thicker at the base thus resulting in superior strength. Yarrawonga Plastics tanks are all fitted with a 25mm Brass outlet, 400mm Mosquito proof Strainer and 90mm Overflow outlet which is also Mosquito proof.
All of our products are manufactured to the highest quality not price with a design to suit most needs with a 10 Year Manufacturers Warranty.
Fittings
1 x 400mm Inlet Strainer
1 x 90mm Overflow
1 x 25mm Brass Outlet
Please feel free to give our friendly and highly qualified staff a call on (03) 8795 7715 today to discuss custom tank fittings if required.
Tank Colours
Select from our huge range of rain water tank colours we offer. (Bronze Olive no longer available)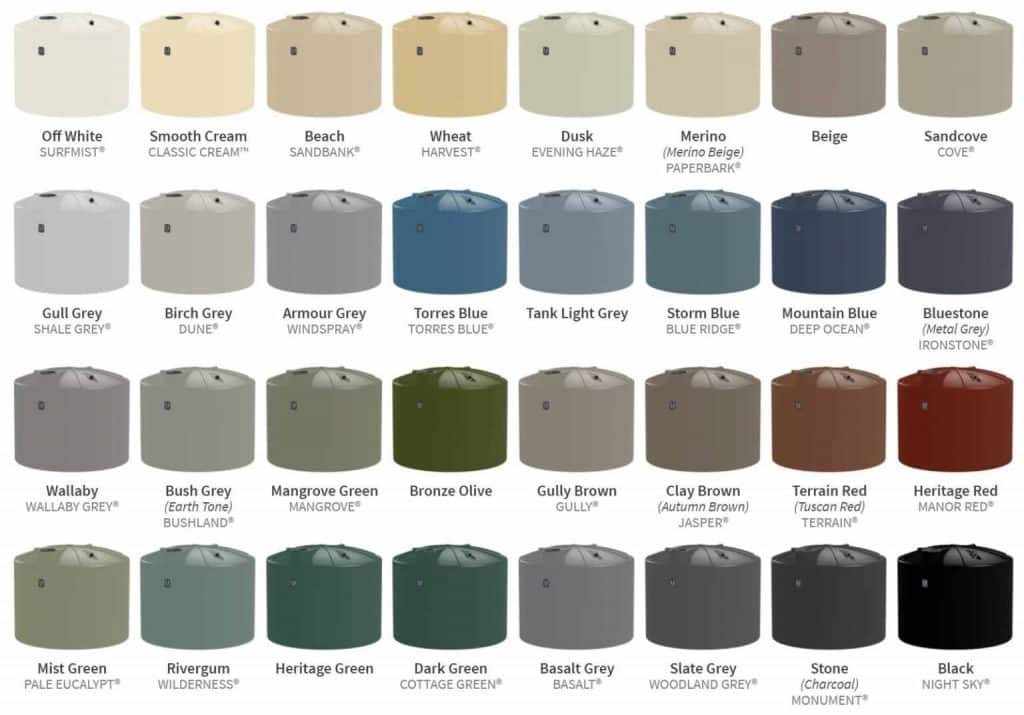 ROUND TANK INSTALLATION INSTRUCTIONS
Your new Yarrawonga round tank is to be situated on a solid level, flat base which is well compacted and free of any sharp objects, rocks or stones.
A concrete base is preferred but a 75mm compacted sand or crusher dust base is acceptable.
The prepared area must be at least 300mm larger than the tanks base, so that the sand cannot erode from under the tank.
The overflow from the tank must be plumbed so that it discharges 300mm away from the base of the tank.