5,000 Litre BMO Compliant Kingspan Steel Modline Tank 
SKU: KS-BMO-5000-2600-1150-1860
Dimensions: 2600L x 1150W x 1860H
Bluescope Aquaplate Food grade polymer coated steel is Australia's premium tank-making material.  It combines durability, strength, lightweight & performance and is backed by a 20 year warranty from BlueScope Steel.  Aquaplate steel complies with Australian Standards (AS4020) regarding the safe storage of water for human consumption.
External finish of Aquaplate steel tanks can be either a selection of 10 pre-painted Colorbond colors or a traditional galvanised finish
Internal coating is a tough food-grade polymer lining bonded to the steel
The base of an Aquaplate steel tank is made using double sided Aquaplate to allow tanks to sit on either a concrete or sand pad
The Aquaplate coating prevents water from ever touching any steel inside your tank
If the fire brigade needs to access your water supply, CFA standard BMO (Bushfire Management Overlay) permit conditions require the pipe work, fittings, and tank outlet to be a minimum size of 64mm. 65mm BSP (British Standard Pipe) is the most common size available. A 65mm fitting is equivalent to the old 2.5″. A 65mm BSP fitting exceeds CFA's requirements and will therefore comply with CFA standard permit conditions for the BMO.
As part of your council building permits, you will be required to install a BMO Compliant outlet on your water tank. We have three options for CFA Fire Fighting Fittings. The anti-vortex system was introduced after the Black Saturday Fires, to stop the water inside the tank swirling around when being pumped by the CFA pumps on their trucks. It allows water to be sucked quicker and supply the volume of water needed to fight fires.
A 64mm BMO Compliant outlet with an anti-vortex, tap and adapter (Most commonly requested by Councils)
A static water supply must permanently set aside on each lot or a shared resource on common property for firefighting either as a separate tank or reserved by tapping domestic supply at the minimum 10,000 litre level per lot. BMO Compliant fittings must be provided for each supply. Ornamental lakes with an assured supply could suffice (while farm dams or swimming pools with no assured supply may not).
BMO Compliant Steel tanks must be solely used for fire fighting purposes only. If you wish to use your tank for garden or domestic use, you must buy a larger capacity tank and always leave the minimum specified capacity in the tank. This can be done by installing a pump outlet higher up on the tank wall, which allows your domestic pump to only access water above that level. If you wish to install a tank larger than the specified amount, you may do so.
Tank Colour Choice
Tanks come pre-finished or painted. Pre-finishsed colours are included in the price and spray painted tanks incur an additional charge. Different states have different colour options and you can see which colours are available in your state in pre-finshed or spray painted in the colour list option above.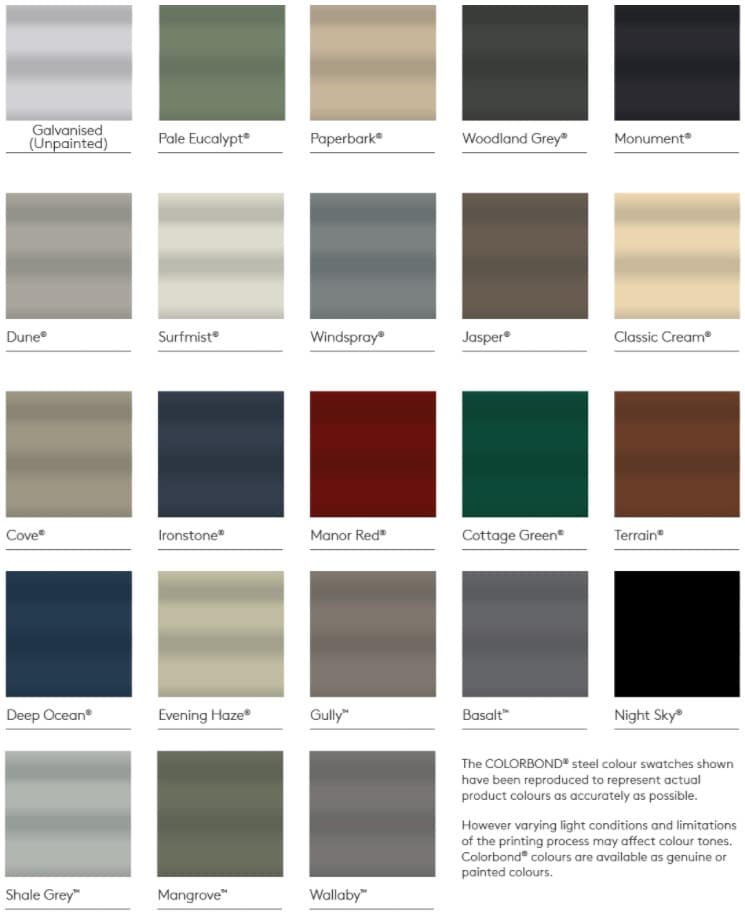 Delivery Zones
Kingspan manufactures and delivers from three plants. They are in Smithfield NSW, Yatala QLD and Epping VIC. Delivery zones are based on the manufacturing plants, and you can determine your delivery zone based on the information below.
From:
Zone 1 & 2
0-120km
Zone 3
121-180km
Zone 4
181-240km
Zone 5
241-300km
Zone 6
301-450km
Epping VIC
$250
$315
$375
$425
$700
Smithfield NSW
$250
$315
$375
$425
$700
Yatala QLD
$250
$315
$375
$425
$700
Delivery Process | Conditions
Delivery to site with two staff. Some larger tanks and difficult sites may require more staff
Placement onto slab; provided access is safe and unobstructed
No lifting permitted above waist height or over fences etc.
15 minute time limit maximum on-site for drivers
Customers responsible for care of tank once delivered
Refer to Tank Delivery and Preparation documents for more information. (You can download a copy in the Product Documents Section.)