100 Litre Rotoplas Underground Pit
SKU: VUT100
Our 100 Litre Vertical Underground Tank is the newest & smallest in our range of polyethylene vertical underground tanks. As with all of our range it has been finite element analysis tested by a qualified engineer and designed to meet and exceed Australian Standard 1546.1 These tanks are widely used for sewage pump stations, lift stations, storm water pump systems and rainwater holding tanks. Manufactured from quality polyethylene and currently available in black.
Features:
FEA tested by a qualified engineer and designed to meet and exceed the requirements of AS/NZ1546.1
Manufactured from polyethylene
Suitable for handling sewage, stormwater, trade waste
Available in black colour only
Specifications:
Product Code: VUT100
Depth: 700mm
Outer Diameter: 460mm
Inner Diameter: 450mm
100 Litre Capacity
Weight: 10KG
Available with polyethylene pedestrian duty lid only – 550×550
✅ Certified to AS/NZS1546.1
✅ NSW Health accredited for use as sewage ejection pump station
Rotoplas rainwater tank delivery zone
Rotoplas' rainwater tank delivery zone includes the Newcastle, Sydney, Illawarra, South Coast, Canberra and Southern Highlands regions. These regions are bordered by Narooma on the South Coast, inland to ACT, Yass and Goulburn in the Southern Highlands, the Hume Highway/M5 into Western Sydney and the M7 and M1 from Sydney up to Newcastle.
If you are outside these delivery regions, please call us on 1800 218 000 to check whether we can deliver to your area and get a freight proposal.
When placing an order, your delivery address must be clearly identified and able to be located on Google Maps or similar. Your house number should be clearly visible at the front of your property. Houses under construction should have the lot number marked on the builder's construction board.
What are the onsite delivery requirements?
To allow for a smooth delivery process, we need you to confirm that we will have no difficulty in accessing your property, and that there will be someone home to assist and secure the tank.
If your property is off a main road or street, accessibility must be possible. We require clear access for a truck and trailer combination which is up to 19 metres long, 2.5 metres wide and 4.6 metres high. If this is not provided or is impossible, the driver will leave the tanks at the closest possible place. Our delivery vehicles cannot negotiate overhanging trees, rough roads and tight bends etc.
In addition to the driver, we require at least one other able bodied person present on site for the delivery to assist the driver with unloading the tank/s.
It is important to note that it is the owner's responsibility to store the tank securely to prevent it from rolling or blowing away, if it is unable to be installed straight away.
Does Rotoplas delivery include installation?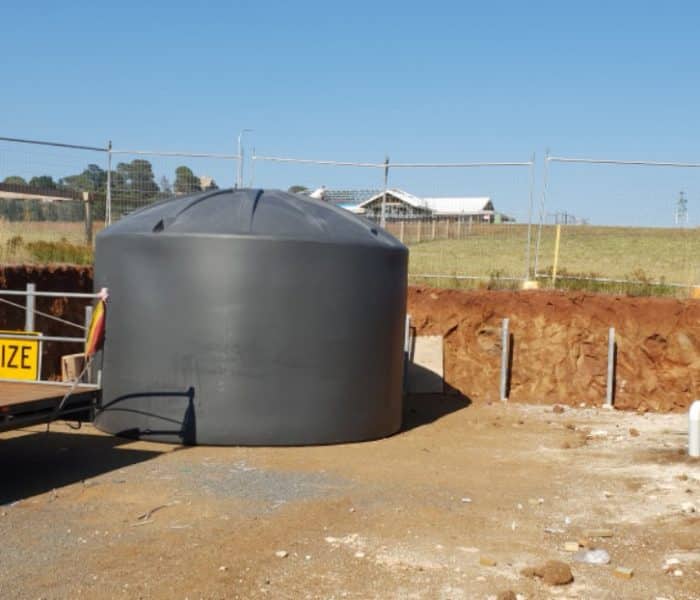 If prearranged, we are happy to provide assistance in positioning the tank only where it is safe and reasonable for the driver to do so, and the location is easily accessible.
If no one is in attendance to receive the tank, our delivery driver will leave it at the front of your property and will take a photo of the tank in position for our records.