2500 Litre Yarrawonga Shortbase Slimline Water Tank
SKU: YW2500SB
Dimensions: 1980L x 770W x 2150H
AVAILABLE IN VIC ONLY.
Yarrawonga Plastics manufacture our rain water tanks using one piece construction technology. Yarrawonga tanks are only made using Australian UV Stabilised Food Grade Polyethylene Plastic. All Yarrawonga Plastics tanks are thicker at the base thus resulting in superior strength. Yarrawonga Plastics tanks are all fitted with a 25mm Brass outlet, 300mm and 400mm Mosquito proof Strainer and 90mm Overflow outlet which is also Mosquito proof.
All of our products are manufactured to the highest quality not price with a design to suit most needs.
All Yarrawonga Slimline Water Tanks come with a 10 year Manufacturers warranty.
Yarra Plastics manufacture our water tanks using one piece construction technology.
Please feel free to give our friendly and highly qualified staff a call on (03) 8795 7715 today to discuss custom tank fittings if required.
Tank Colours
Select from our huge range of rain water tank colours we offer. (Bronze Olive no longer available)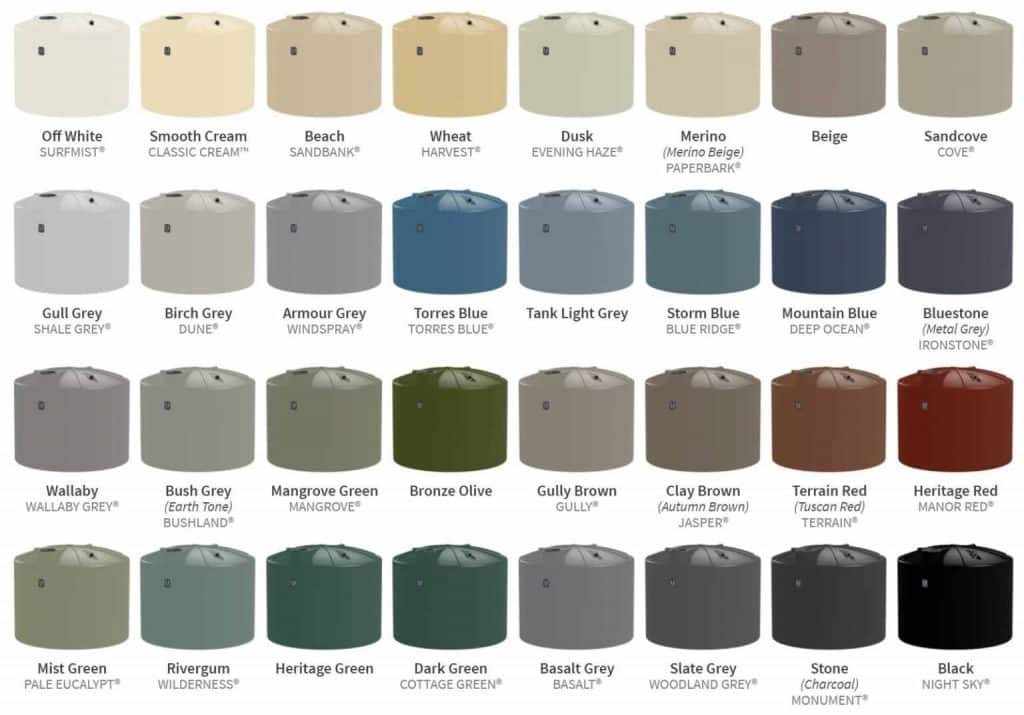 SLIMLINE TANK INSTALLATION INSTRUCTIONS
Slimline tanks must be installed on a smooth, level, reinforced concrete base. Base must be a minimum of 100mm thick and 100mm wider than the tank diameter. Remove sharp objects that may cause damage to the base of the tank.
Slimline tanks must be installed adjacent to a wall with a 50mm clearance. The Slimline is not to be attached or fixed to the wall or fence, the tank MUST be freestanding.
The Slimline tank MUST be placed in a position where it will not be subjected to heavy bumps or knocks.