4000 Litre Pro Plastics Modular Tower Water Tank
SKU: PP4000M
Dimensions: 2140L x 1070W x 2390H
This modular tower tank is the narrowest medium sized slimline tank with sufficient storage to cover most of your household needs. Great for under-eaves and large capacity storage in minimum footprint areas, the Tower is sure to meet your demands.
Pro Plastics is a proudly 100% Australian made & owned, family operated business and all of our products are made right here in Australia. Unlike many tank manufactures, our water tanks are certified to the Australian Standards Specifications AS/NZS 4766. This certifications provides independent assurance that our products are built to last in Australian conditions.
Each 2000LT Tank Weighs Approx 50KG
Fittings
The tank comes fitted with a 400mm mosquito proof leaf strainer fitted @ 12 O'clock.
One quality brass 25mm BSP female outlet is moulded into the tank at the height of your choice.
90mm Overflow is supplied loose.
Please feel free to give our friendly and highly qualified staff a call on (03) 8795 7715 today to discuss custom tank fittings if required. We can supply detention fittings on our water tanks at any position as per your requirement and storm water planning. Not sure if you need a detention water tank or a retention water tank? Read our blog here about detention and retention tanks.
Tank Colours
Select from our huge range of rain water tank colours we offer.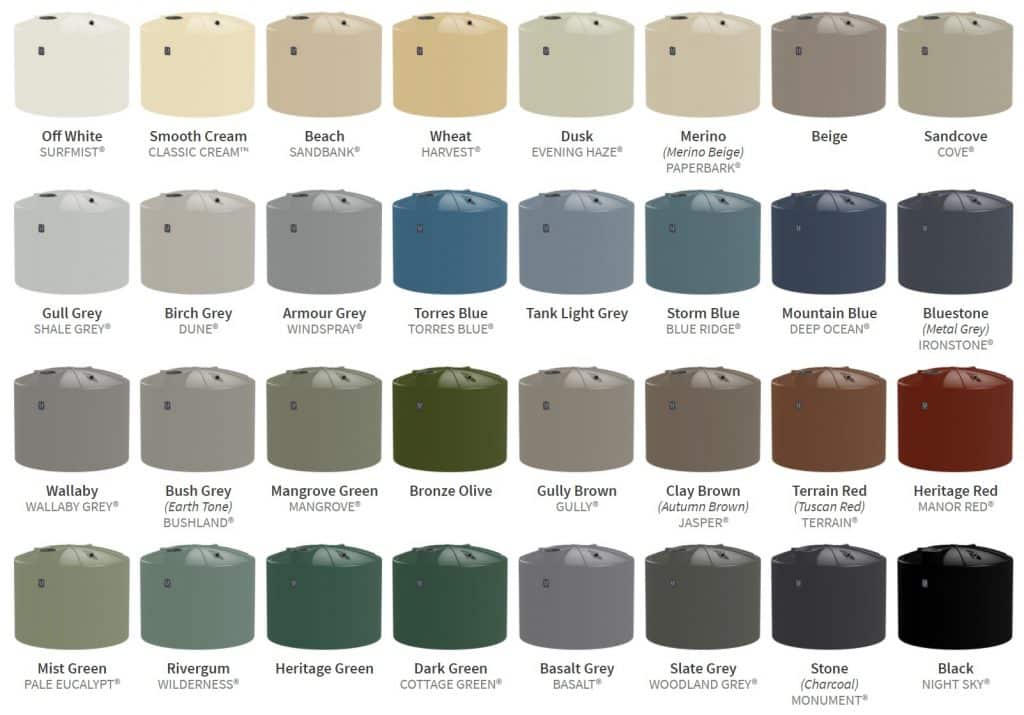 AVAILABLE IN VIC ONLY