10,000 Litre BMO Compliant Steel Round Water Tank
SKU: AQ-BMO10000R
Dimensions: 2700D x 1860H
Tank Weight: 180KG.
Bluescope Aquaplate Food grade polymer coated steel is Australia's premium tank-making material.  It combines durability, strength, lightweight & performance and is backed by a 20 year warranty from BlueScope Steel.  Aquaplate steel complies with Australian Standards (AS4020) regarding the safe storage of water for human consumption.
External finish of Aquaplate steel tanks can be either a selection of 10 pre-painted Colorbond colors or a traditional galvanised finish – BASALT now available
Internal coating is a tough food-grade polymer lining bonded to the steel
The base of an Aquaplate steel tank is made using double sided Aquaplate to allow tanks to sit on either a concrete or sand pad
The Aquaplate coating prevents water from ever touching any steel inside your tank.
If the fire brigade needs to access your water supply, CFA standard BMO (Bushfire Management Overlay) permit conditions require the pipe work, fittings, and tank outlet to be a minimum size of 64mm. 65mm BSP (British Standard Pipe) is the most common size available. A 65mm fitting is equivalent to the old 2.5″. A 65mm BSP fitting exceeds CFA's requirements and will therefore comply with CFA standard permit conditions for the BMO.
As part of your council building permits, you will be required to install a BMO Compliant outlet on your water tank. We have three options for CFA Fire Fighting Fittings. The anti-vortex system was introduced after the Black Saturday Fires, to stop the water inside the tank swirling around when being pumped by the CFA pumps on their trucks. It allows water to be sucked quicker and supply the volume of water needed to fight fires.
A 64mm BMO Compliant outlet with an anti-vortex, tap and adapter (Most commonly requested by Councils)
A static water supply must permanently set aside on each lot or a shared resource on common property for firefighting either as a separate tank or reserved by tapping domestic supply at the minimum 10,000 litre level per lot. BMO Compliant fittings must be provided for each supply. Ornamental lakes with an assured supply could suffice (while farm dams or swimming pools with no assured supply may not).
BMO Compliant Steel tanks must be solely used for fire fighting purposes only. If you wish to use your tank for garden or domestic use, you must buy a larger capacity tank and always leave the minimum specified capacity in the tank. This can be done by installing a pump outlet higher up on the tank wall, which allows your domestic pump to only access water above that level. If you wish to install a tank larger than the specified amount, you may do so.
*Surcharge for Colorbond Lid (Galvanised is standard) 5%.
*Prices are for Colorbond Aquaplate tanks in a standard colour. Non-standard colours are available and incur a 10% surcharge.
*Please call for Colorbond Lid option or non-standard colours on (03) 8795 7715.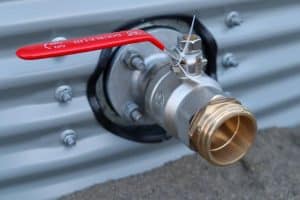 INSTALLATION
Note – a minimum 550mm clearance is required above all tanks for service, cleaning and warranty.
Option 1 – Concrete Pad;
This is our preferred option as it removes any possibility of future erosion
A 100mm thick slab with reinforcing mesh is ideal
The slab should be at least 50mm larger than the tank on all sides.
Option 2 – Concrete Pavers;
Concrete pavers sitting on a crushed rock base
Base must be compacted and level prior to paving
Sufficient support is required under the pavers so they don't sink over time.
DELIVERY
Note a minimum 550mm clearance is required above all tanks for service, cleaning and warranty.
The delivery of your tank will be on a light truck with tandem trailer. Please note:
Our driver cannot unload on his own, he will need assistance to help unload the tank off the truck and move it into position. For slimline tanks up to 4000 litres and round tanks up to 9000 litres, one extra person is required onsite, for bigger sizes a minimum of two extra people are needed onsite.
Your property should be clearly numbered or we need a map to assist the driver to locate the site
Access to the tank site must be free from overhead objects such as power lines and tree branches
Your driveway and all access roads must have 4.5m height clearance
Ensure sufficient width is available for our 3m wide vehicle (vehicle is 16m Long and up to 4.5m High with full load)
Your site should be dry and firm to prevent the vehicle sliding or sinking
Ensure the delivery site is safe, and free from risk of damage to persons, product or property
If the tank is in an exposed area you will need to either put 50mm of water into the tank, or if water is not available the tank must be tied down to prevent it from blowing away. We cannot take any responsibility for tanks damaged in this manner.
We install the threaded fittings in the tank, however you or a plumber will need to install the valves onto these fittings prior to filling the tank. You will need to use Teflon tape or similar to seal the connection.
If you are unsure regarding any of these notes, please contact us prior to the delivery.