2000 Litre Aquarius Slimline Water Tank 
SKU: AQ2000
Dimensions: 2050L x 620W x 2020H
AVAILABLE IN NSW ONLY
Slimline tanks have revolutionised rainwater collection and storage and made it possible for most homes to now install a tank with good capacity. They are ideally suited to narrow spaces such as side passageways, alongside or behind the garage or along a blank wall. A number of slimline tanks can be interconnected to increase capacity.
Aquarius Watermaster offers Slimline poly tanks with the following features:
The slimmest range of self supported tanks without any steel brackets;
Both design and dimension make them extremely strong;
Seamless construction;
When filled there is no tank bulge;
Even wall thickness throughout the whole tank;
Tanks can be placed horizontally under floor or decking;
Outlets mounted at an angle to allow overflow pipe to sit in tightly against the wall;
Manufactured in Australia to AS/NZS 4766:2006;
Seven standard colours available;
Made from food grade UV Stable (UV20) polyethylene;
10 year repair or replacement warranty by manufacturer.
Fittings
The inlet comes fitted with a 400mm mosquito proof leaf strainer on one end of the tank.
Three quality brass 25mm BSP female outlets are moulded into the tank at the at each end near the base and bucket tap height.
An overflow provision is moulded into the tank and can be fitted on either end. A 90mm overflow is supplied loose.
Please feel free to give our friendly and highly qualified staff a call on (03) 8795 7715 today to discuss custom tank fittings if required.
Colour Selection
We have over twenty different colours you can choose from. Below is a range of colours we offer in the Aquarius 1200 Litre slimline water tank. Can't find a colour you want? Call us? It may be that we just have not added it the current range. If it's available in plastics, then we can get it for you.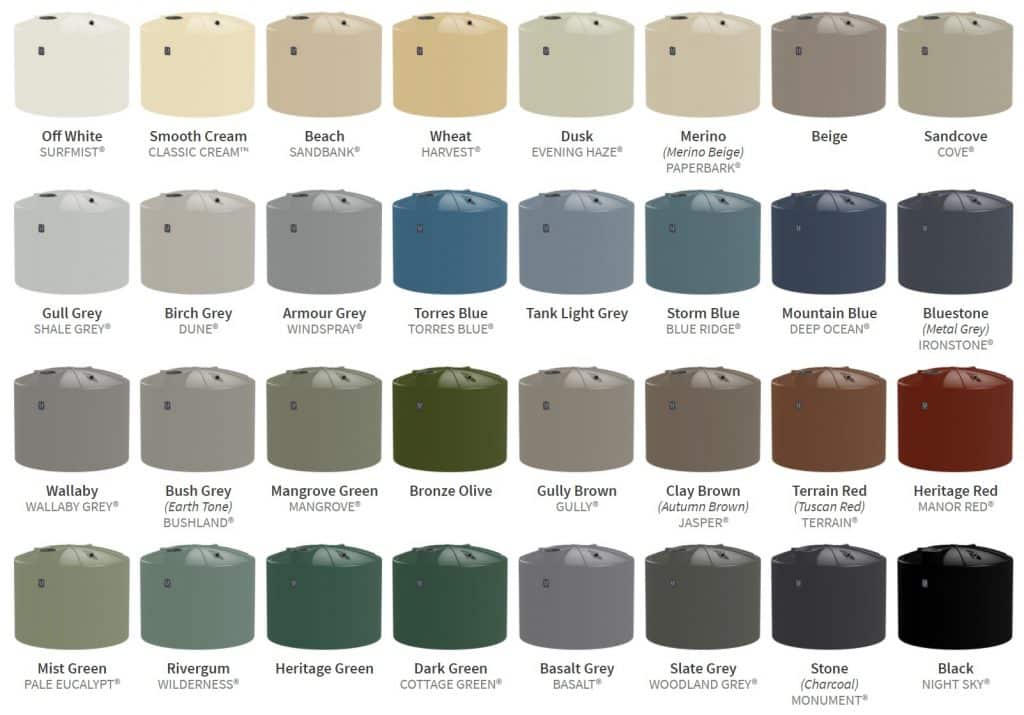 Please refer to the Documents Section for a downloadable step-by-step guide for tank installation & further information