Atlas Hydra MONO 10″ Self Cleaning Sediment Filter 90 Micron
SKU: ATL-HYDRAM1RAH90MCRIN
A Hydra Self Cleaning Filter with 1" BSP Plastic inlet/outlet with 90 micron stainless steel mesh filter and pressure gauges included. 100lpm
Suitable for coarse sediment filtration in homes on municipal water supplies, as a pre-filter for water treatment on rural supplies as well as some commercial and industrial applications. These filters perform well with lower pressure drop when higher sediment loads are present.
The filter bowl is made from PET with exclusive 'Atlas Green' environmentally friendly manufacturing process. This clear filter bowl in combination with the included pressure gauges give an easy visual indicator of when the filter should be cleaned.
Technical Specifications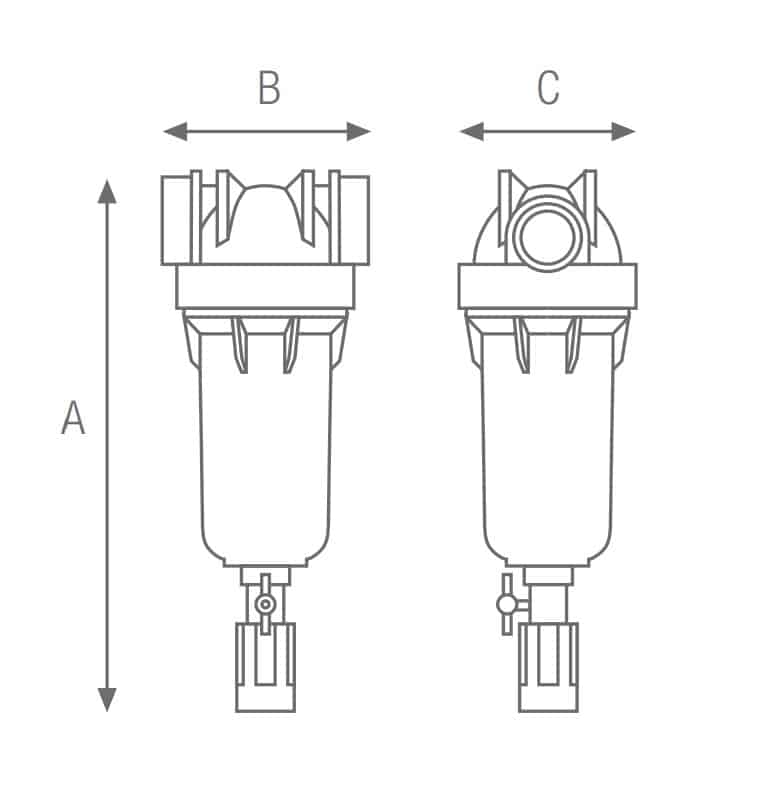 A: 390mm
B:120mm
C:107mm
Hydra – Cleans Your Water, Cleans Itself
Italian made, for superior construction, the Atlas Filtri hydra range of hydra self cleaning filters make coarse sediment filtration easy and convenient.
Features include:
A range of low maintenance mesh filters are available to fit your needs
Cartridges feature an antimicrobial flat seal
Counter-current self cleaning system that is can be either manual or automatic for maximum particle removal
The drain funnel has a backflow preventing device, so this is as easy to install on mains as it is in rural
All Hydra models come with

Spanner
Bracket
Lubrikit (O-ring Lubricant)
Working Conditions
Max Working Pressure
8bar (116 psi)
Max Working Temperature
45°C (113°F)
Min Working Temperature
4°C (39.2°F)