Bianco A2-AUTOSUB Acquasaver Submersible Mains Switch Over Pump 
[810561]
The Bianco Autosub Submersible Pump is specially designed and manufactured for the rainwater industry. It is used in household applications for the automatic supply of clean water from rainwater tanks and its submersible design means that the pump can be placed inside the rainwater tank for a neat, secure and quiet installation. It is intended for use in household applications for the automatic supply of clean water which contains no fibres.
Note: This pump cannot be used in swimming pools, ponds or basins where people are present, or for pumping hydrocarbons (petrol, diesel fuel, combustible oils, solvents, etc.) in accordance with the accident prevention regulations in force. They should be cleaned before putting them away.
AS/NZS 4020 Drinking Water Approved.
Specifications
Max Flow: 100L/min
Max Head: 45m
Rated Power: 750W
Weight: 12KG
Warranty: 2 Years
Applications
Household water supply
Gardening
Drinking water
Features
Compact
Easy to install and use
Automatic on/off
Intelligent controller
Dry-run protection
Water cooled motor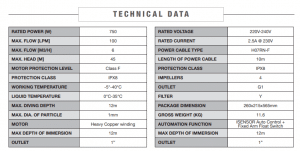 How does the AcquaSaver Work?
The AcquaSaver® Valve will always prioritize the use of rainwater over mains water when rainwater is available and will automatically switch over to mains water in the event of the rainwater tank running low or electrical failure
When rainwater has been replenished or power has been restored to the pump, the AcquaSaver valve will automatically prioritize back to rainwater.
The pump is only active when rainwater is being drawn from the water tank, it does not operate when the AcquaSaver Valve has switched to mains position.
The pump controller starts and stops the pump when it detects a demand – for example flushing a toilet or using a washing machine.
The operating mechanism of the AcquaSaver Valve is a unique patent design, it works by hydraulic water pressure created by the pump to close one inlet fully before opening the other inlet. This ensures an extremely reliable mechanism using few moving parts and no electronic components and no energy consumption.
Performance Curve