1500 Litre Bushmans Round Water Tank
SKU: T350
Dimensions: 1170D x 1620H (inlet @ 1620)
This round 1500 Litre rainwater tank is suited for small spaces around suburban households. This tank provides reasonable storage capacity, with minimum width.
Bushmans tanks are one of the top choices in water storage tanks whether you are a rural or urban dweller. Bushmans tanks are Australian designed and manufactured from the highest standard UV stabilised and food grade quality polyethylene.
Why a Bushmans Tank?
Bushmans has invested heavily to ensure our products are of the highest standard and that the level of service, in terms of delivery and after sales service, is outstanding. We have designed our tanks to meet the requirements for household, industrial, agricultural and rural applications. Bushmans SunTough tanks are built stronger, longer life guarantee and better value, now with new SunSmart technology.
Installation Guide
The six step Bushmans installation guide is a comprehensive guide on how to install a Bushmans Water Tank. Rain water tank installation is critical to the effectiveness of your tank and it is important this guide is followed to ensure a long life for your tanks. If this guide is not followed then Bushmans guarantee may be voided. You can download a copy in the Documents Section.
Standard free inclusions:
1 x Inlet strainer (mozzie proof), 1 x Overflow, 1 x 25mm Brass pump outlet.
Please feel free to give our friendly and highly qualified staff a call on (03) 8795 7715 today to discuss custom tank fittings if required.
Tank Colours
Select from our huge range of rain water tank colours we offer.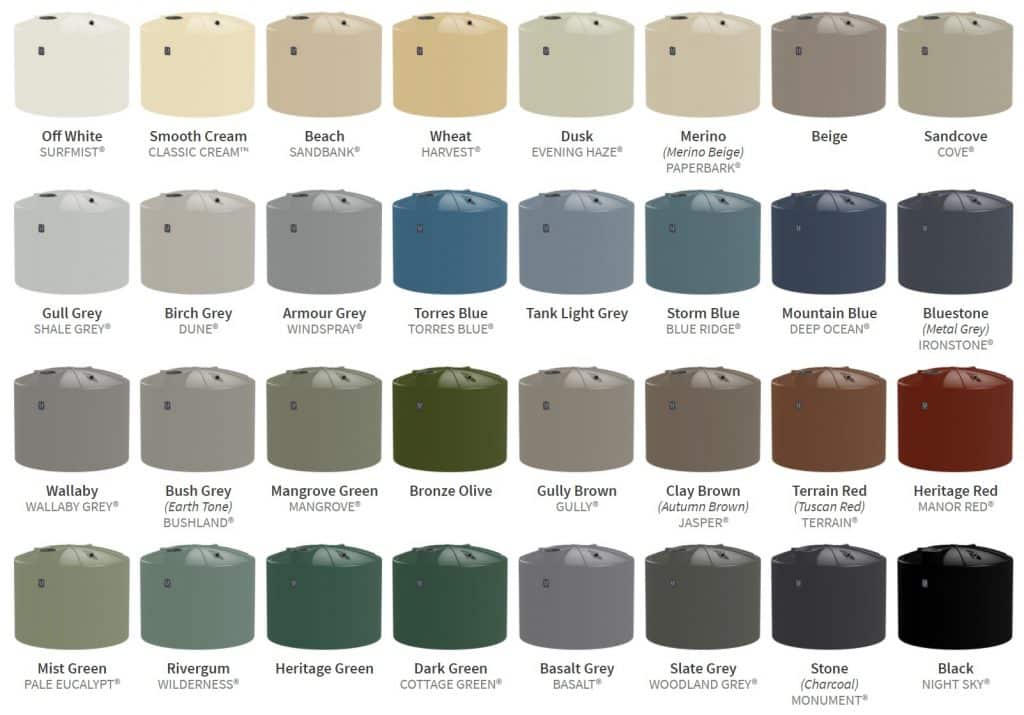 Assistance Required Onsite For Delivery:
1 Adult + Driver.
FREE DELIVERY TO BELOW REGIONS

Delivery time for Bushmans Tanks vary state to state. Current lead times are as below:
Victoria – 2-3 weeks
New South Wales – 4-5 weeks
Queensland – 3-4 weeks
South Australia – For deliveries within 100kms of Cavan; 2-3 weeks, any deliveries outside of the 100kms; 3-4 weeks
Australian Capital Territory  – 3-4 weeks