25,000 Litre Bushmans Round Water Tank
SKU: TXD5500
Dimensions: 3780D x 2790H (inlet @ 2420)
Tank Weight: 425KG.
Introducing Bushmans latest design, the brand new TXD5500. The TXD5500 is a 25,000 litre water tanks that has been meticulously designed by our expert team of engineers. Years of research had gone into the design to ensure that this water tank has the utmost strength and durability in both design and build.
Standard free inclusions:
1 x Inlet strainer (mozzie proof), 1 x Overflow, 1 x 25mm Brass pump outlet.
Please feel free to give our friendly and highly qualified staff a call on (03) 8795 7715 today to discuss custom tank fittings if required.
Why a Bushmans Tank?
It is 100% Australian made so you can be sure you are receiving the highest quality product. When you purchase this tank, you can rest easy knowing that it is covered by the Bushmans 10 year Guarantee.
The thing that makes the TXD5500 so unique is the domed and pole-less roof. Bushmans have played around with the design of our tanks for decades and have now come up with a tank that provides structural integrity whilst looking great! The water tank is available in a range of COLORBOND® colours to suit the aesthetic of your home or shed.
This tank has been designed specifically to suit the requests we've heard by customers to have a tank without a pole to support the roof. This 25,000L tank has been built with the Queensland climate in mind by being manufactured using Bushmans' very own Sunsmart® raw material to ensure excellent longevity under the Australian sun. A large rainwater tank like this is highly suitable for use on farms, rural properties and really any property where there is room for a large tank. If you, your farm or your family requires larger quantities of water storage than the TXD5500 is perfect for you. This tank is ideal for use around the garden or home but can also be used as a part of reticulated stock watering systems on rural properties. For more information on this new water tank, please contact our office on (03) 8795 7715.
Tank Colours
Select from our huge range of rain water tank colours we offer.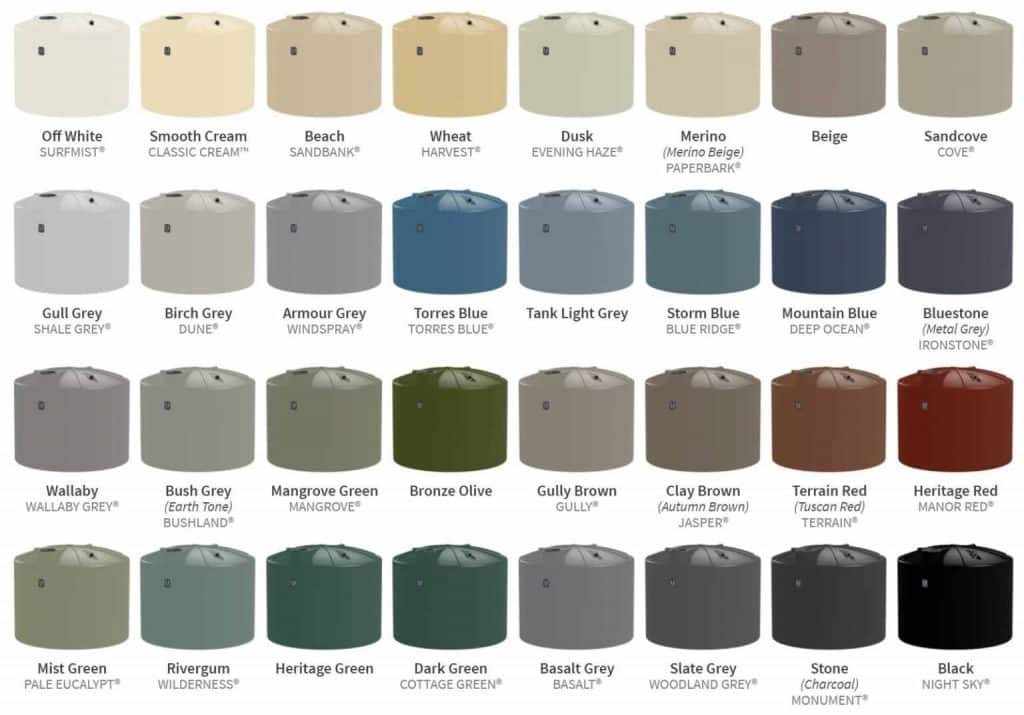 Installation Guide
The six step Bushmans installation guide is a comprehensive guide on how to install a Bushmans Water Tank. Rain water tank installation is critical to the effectiveness of your tank and it is important this guide is followed to ensure a long life for your tanks. If this guide is not followed then Bushmans guarantee may be voided. Please download a copy of the guide in the Product Documents for this item.
FREE DELIVERY TO ALL HIGHLIGHTED REGIONS
In certain areas, this tank will require a permit. This is normally in Alpine areas, certain stretches of the Great Ocean Road, and the Dandenong Mountains including areas such as Upper Beaconsfield, Gembrook and Warbuton. Please call our friendly staff if you are in these areas, as we may need to quote an additional oversize permit to deliver your water tank.
To have your tank delivered safely without damage, please ensure that you notify logistics if there is not sufficient space for an oversized semi-trailer or if there are any obstacles that the Customer Care team member will need to consider. A minimum of 50m turning space is required, max dimensions of truck: 21m(L) x 2.5m(W) x 5.2m(H). Obstacles may include low power lines, gates, inaccessible roads, roundabouts, crossings, overhanging trees etc. Check our website to see our delivery areas. Our Customer Care team member will need assistance at time of delivery to unload your tank from the truck. Please have able-bodied people available to assist. If assistance cannot be provided then hire or use of any equipment is at purchaser's expense (i.e. crane hire, 4WD tractor, backhoe hire, front end loader hire)
Assistance Required Onsite For Delivery:
3 Adults + driver
FREE DELIVERY TO BELOW REGIONS

Delivery time for Bushmans Tanks vary state to state. Current lead times are as below:
Victoria – 3-4 weeks
New South Wales – 4-5 weeks
Queensland – 4-5 weeks
South Australia – Deliveries within 100kms of Cavan are 2-3 weeks, deliveries outside of the 100kms are 3-4 weeks