DAB ESYBOXMINI Mains Pressure Boosting Multistage Pump
E.SYBOX MINI is the DAB compact atuomatic pressurization system for the water supply of a single dwelling. E.SYBOX MINI guarantees the comfort of constant pressure (Presure Set Point adjustable from 1 up to 5 bar) inside the system, and energy savings thanks to the inverter technology. Suitable for use with drinking water, in domestic systems, and in gardening applications. E.SYBOX MINI does not require any additional components for its installation.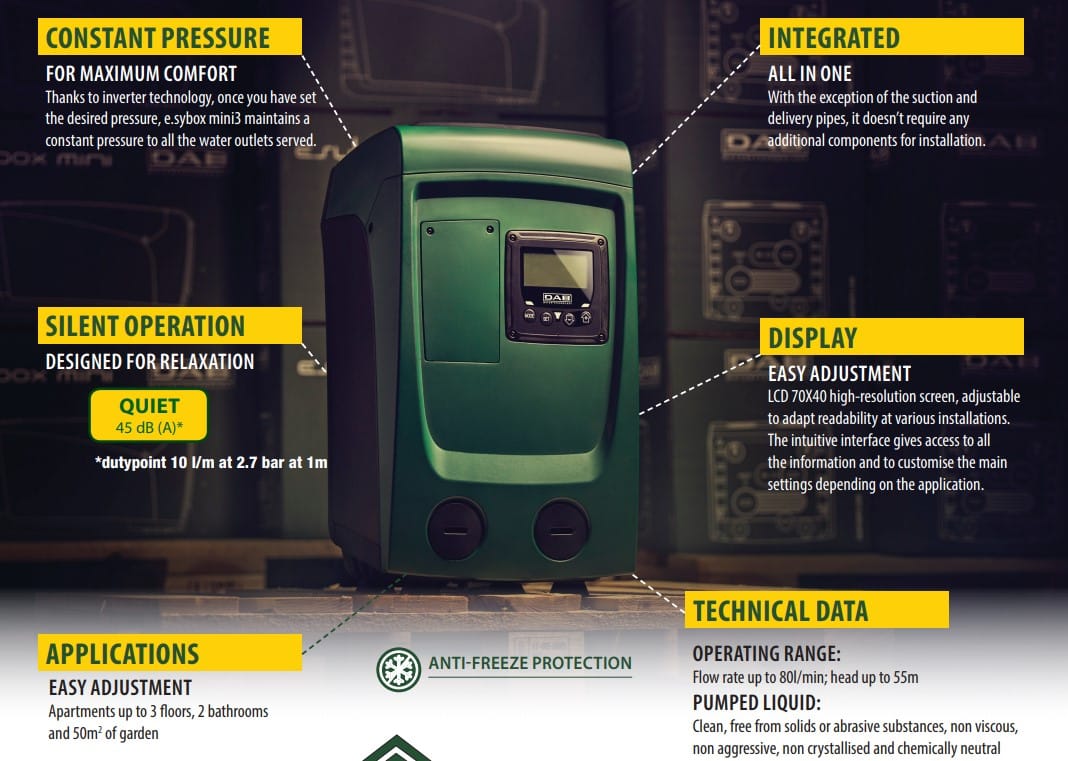 AS/NZS 4020 Approved for drinking water.
Water cooled motor and sound dampening casing creating the quietest booster pump available today
Dry run protection
Flexible installation with horizontal or vertical position and wall mounting accessory kit
Self priming down to 8 metres
Frost protection
Anti-vibration mountings
Variable positions for inlet and outlet pipework
Integrated chamber with expansion vessel, tool kit and installed manual
Saves 30% of space in comparison to a traditional system
Technical Specifications
| | |
| --- | --- |
| Brand | DAB Pumps |
| Product Type | Pressure System |
| Suitable For | Clean Water |
| Bar | 5 Bar |
| Approval | Approved For Drinking Water |
| Flow Range Category | b. 100 – 199 L/min |
| Flow Rate (L/min) | 80 L/min |
| Hp | 1.1 Hp |
| kPa | 500 kPa |
| Kilo Watts | 0.85 kW |
| Max Head (m) | 50 m |
| Port Size Inlet | 1″ BSPF inlet |
| Port Size Outlet | 1″ BSPF outlet |
| Powered | Electric |
| Taps | 8 Taps |
| Warranty (months) | 48 Months |
| Volts | 240 V |
| Watts | 850 W |