Davey HM270-19P Pump With Pressure Switch

The HM Water Pressure System range with Pressure Switch controller is a premium product designed for multi-storey buildings and homes with high pressure needs.
With all stainless-steel pump and hydraulic componentry, and the ability to sustain high water temperatures, the HM Water Pressure System is ideal for household and domestic water supply, farming and agricultural use and irrigation or turf watering applications.
The HM water pressure systems have been certified and tested to comply with the requirements of the AS/NZS 4020 standard. The AS/NZS 4020 standard stipulates that products in contact with drinking water do not affect the taste or appearance of the water, do not support the growth of micro-organisms and do not release cytotoxic or mutagenic compounds or metals into the water.
All stainless steel HM Series pump unit with adjustable pressure switch and pressure gauge. Provision for Davey Supercell large draw-off capacity tank.
Motor / power: 1900W
Max. flow: 270T/min
Head: 36m
Inlet: 2″F / 50mm
Outlet: 1.5″F / 40mm
Pressure: 360kPa
Body: 304 Stainless Steel
Impeller:304 Stainless Steel
Stages: 304 Stainless Steel
Pump Shaft: 316L Stainless Steel
Stage Centring device: 304 Stainless Steel
Mechanical Seal : Carbon
Warranty on pump: 2 Years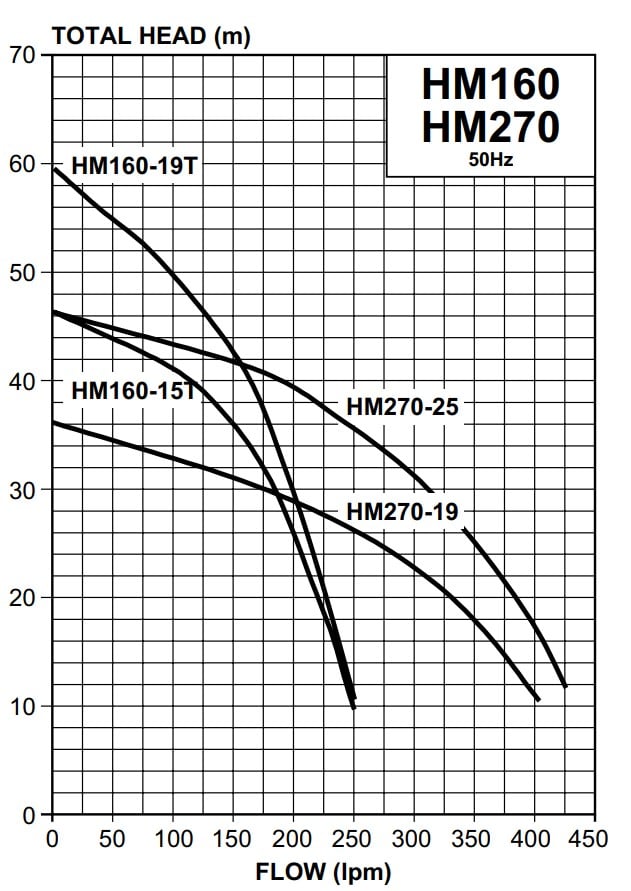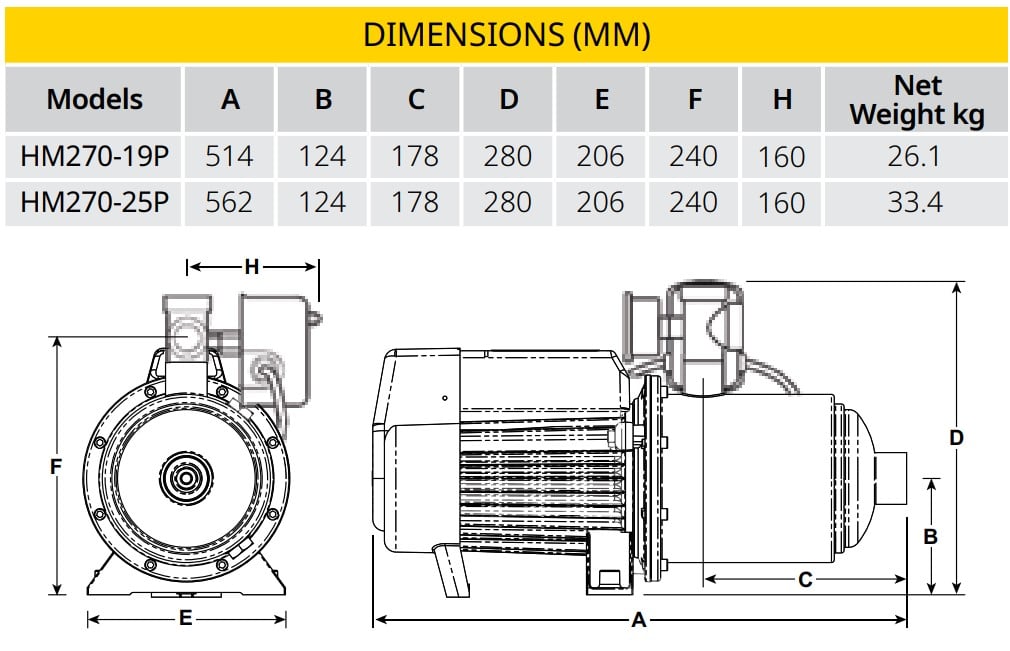 APPLICATIONS:
Water supply, boosting and transfer
Irrigation and turf watering
Wash down
Emptying/filling reservoirs or tanks
Water treatment (demineralisation, filtering etc)
Commercial washing equipment
FEATURES:
Horizontal multistage centrifugal pump with all hydraulic parts in stainless steel:
Suitable for high water temperatures
Corrosion and wear resistant
Axial suction and vertical discharge:
Compact design
Easy to install
Stainless steel impellers with high efficiency impeller profile and thick self-centring impeller neck rings for:
High efficiency
Reduced power consumption
Low noise output
Air purging valve and stage porting:
Easier priming
Less susceptible to air leaks
Improved dependability
Impellers mounted directly on extended shaft:
Maximise performance per stage
High efficiency
Long motor and pump life
Increased wear resistance
Pump casing assembly attached to motor bracket at 8 points with o-ring seal:
Complete stainless casing
Better sealing
Longer service life
Davey built, totally enclosed fan cooled (TEFC) electric motor:
Single-phase motors have built in thermal overload protection with automatic reset and 1.8m long power lead and Australian 3 pin plug
Sealed and greased for life motor bearings
Over sized drive bearing
Longer life
Easy service
Economical & quiet running