Davey XP35P8 Pressure Controlled System with 8LT Pressure Tank

XP Water Pressures Systems are a robust and compact single stage jet assisted water pump, suitable for small to medium sized single storey households with varying water quality.
The XP water pressure systems have been certified and tested to comply with the requirements of the AS/NZS 4020 standard. The AS/NZS 4020 standard stipulates that products in contact with drinking water do not affect the taste or appearance of the water, do not support the growth of micro-organisms and do not release cytotoxic or mutagenic compounds or metals into the water.
The unit features a TEFC corrosion resistant motor driven by a single stage, jet assisted centrifugal pump and includes a built in pressure accumulator with a "Supercell" 8P tank which provides 3 litre draw-off.
• Manufactured from quality corrosion resistant materials
• Motor and pump designed for frequent starts
• Discharge may be rotated through 180º – makes plumbing easier
• Quick and easy installation
• Low maintenance
• Easy to service if required
• Every pump is performance and pressure tested in our factory to ensure quality and reliability
Motor / power: 450W
Max. flow: 42T/min
Head: 35m
Inlet: 1″F / 25mm
Outlet: 1″F / 25mm
Pressure: 350kPa
Body: Glass filled nylon
Impeller: Glass filled polycarbonate
Mechanical Seal : Carbon Synthetic
Warranty on pump: 2 Years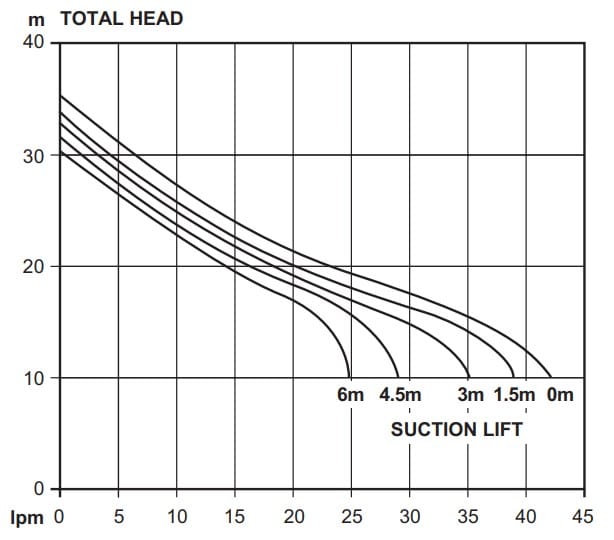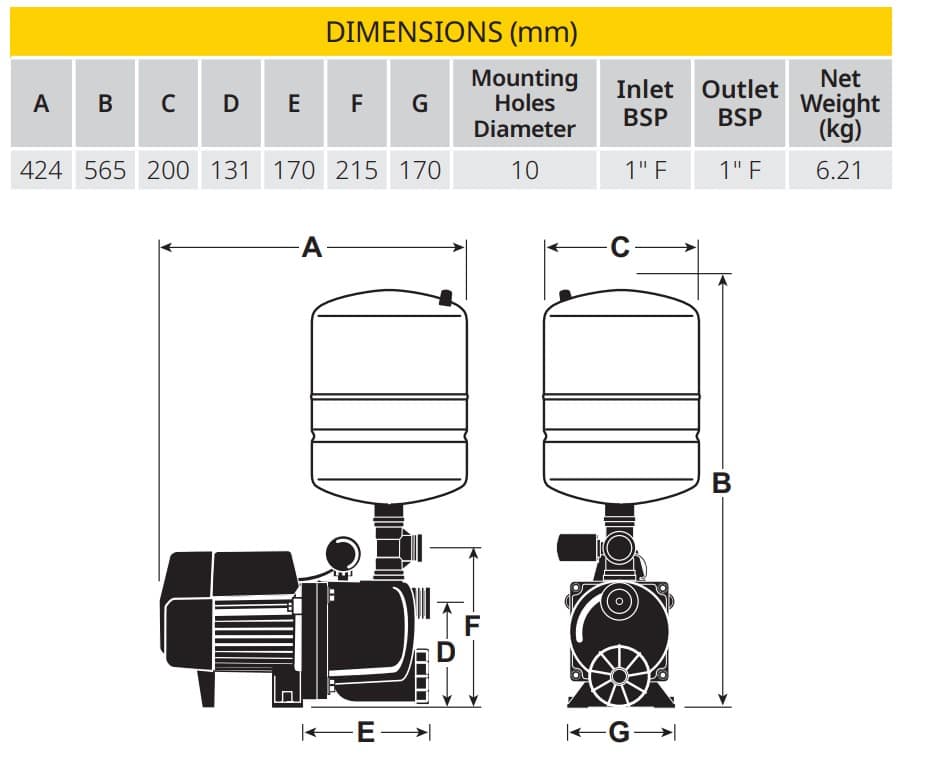 Economical, compact 25lpm jet assisted centrifugal pressure pump. The unit features a TEFC motor and includes a built in pressure accumulator. Why choose the Davey XP Pressure Pump?
Single stage jet assisted centrifugal pump
Higher operating pressures
Less moving parts for increased dependability
Corrosion resistant engineered thermoplastic pump components
Longer life when pumping a variety of water qualities
Reduced friction within the casing and impellers
Pump feet provide outstanding life even when installed on wet surfaces
In-built compact accumulator and pump casing for
Easier installation in small spaces
Longer accumulator life
Internal suction check valve for easier installations High quality purpose built 2 pole IP55 Davey pump motors with
Choice of 220/240 volt, 50/60Hz, 2850rpm or 110/115 volt, 60Hz, 3420 rpm to suit almost every supply voltage
Permanent split capacitor starting for dependable and frequent starting everytime
In-built thermal overload for long motor life and protection against motor damage due to jamming
High quality C3 – HTG rated fully sealed bearings for longer life
Fitted with a 2m long power lead with 10amp Australian three pin plug for ease of connection to power supply
Designed with the serviceman and installer in mind
Suction and discharge are close for easier installation
Quality components throughout for long life and easier maintenance
Every pump is performance and pressure tested in our factory to ensure quality and reliability
Applications:
Ideal for pressure boosting applications for:
Suburban homes – pressurising drinking water from rain water tanks.
Small weekenders / cottages – delivering pressurised water from rainwater catchment tanks
Caravans
Boats (240V A.C. power)
ELECTRICAL DATA
Model XP35P8
Supply Voltage 220-240V
Supply frequency 50Hz
Nominal speed 2850rpm
Input power (P1) 0.62kW
Output power (P2) 0.45kW
Full load current 2.8 amps
Locked rotor current 12 amps
Starting P.S.C.
Enclosure class IP55
Insulation class Class F
Pressure switch cut-in 140kPa
Pressure switch cut-out 280kPa
MATERIALS OF CONSTRUCTION
Impellers Glass filled polycarbonate
Pump casing Glass filled nylon
Pump shaft 304 stainless steel
Internal check valve Delrin
Check valve spring 304 stainless steel
Seal ring (stationary) Ceramic
Seal ring (rotating) Carbon
Seal ring elastomer Nitrile rubber
Seal spring 304 stainless steel
O-rings Nitrile rubber
Jet Acetyl
Venturi/coverplate Glass filled noryl
Priming plug Glass filled polypropylene
Motor shell Marine grade aluminium
Motor shell finish Baked polyester
Pressure tank shell Steel
Pressure tank shell finish Epoxy primer with polyurethane epoxy finish
Pressure tank diaphragm Butyl rubber
Pressure tank liner Potable grade virgin polypropylene
Pressure tank inlet Stainless Steel
INSTALLATION AND PRIMING
• On installations with suction lifts over 1m, a good quality foot valve should be fitted to avoid loss of prime. In this case the check valve inside the pump should be removed.
• The system is primed by removing the pressure tank, filling with water and replacing the tank prior to switch on.
• For suction lifts over 1.5m the pressure switch may need to be adjusted to enable the pump to automatically cut-out.
• Fill pump and suction lines through pressure switch port.