Reefe RFK1100 Fountain Kit Pump 240V
Flow Rate: 18LT/min
Power: 20W
Voltage: 240v
Inlet: ½" BSP
Outlet: ½" BSP
Max Head: 2m
Cable Length: 10m
Pre-Filter: Yes 
Flow Control: Yes
Suitable for above ground install: Yes
Dimensions: 180L x 90W x 110H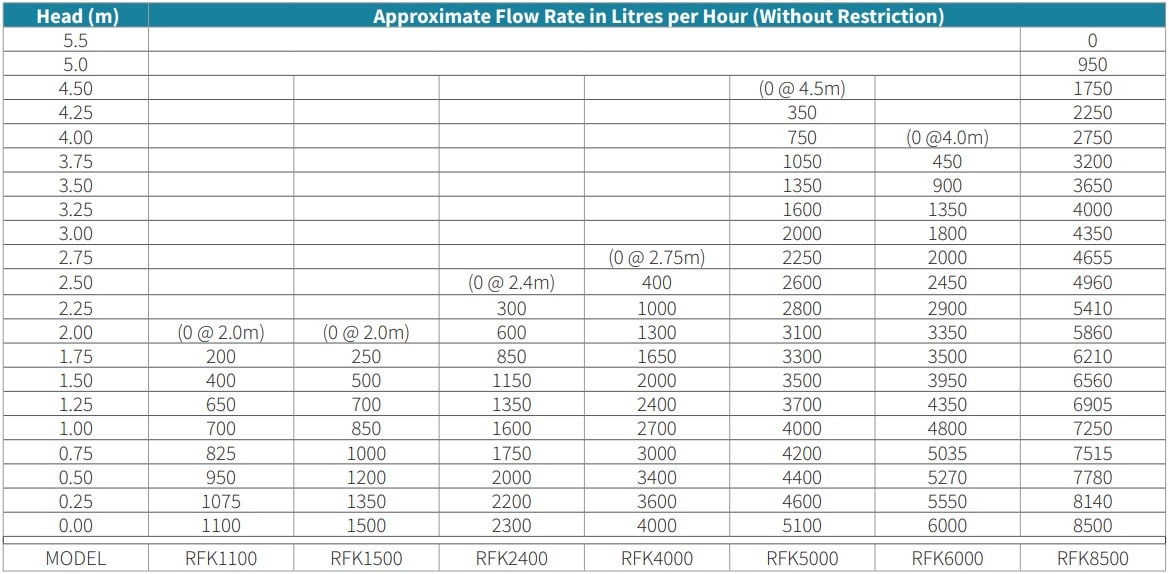 These pumps are a proven quality design with good performance and low power consumption. They are user friendly , quiet running , centrifugal-type pumps. They are saltwater compatible and supplied with fountain nozzles which include a flow control valve. Foam prefilter is included to provide protection  for the motor as well thermal overload protection . Quality HO5RN-F rubber cables are fitted for flexibility and longevity. Pumps are fully submersible with IP68 rating .
Our range of pond pumps and accessories have been carefully selected to offer an enhanced outdoor living experience. We carry products to suit pond, bio-filtration and water garden lighting applications. No matter the situation, we have the perfect product to cater to your needs. Our pond pumps are quiet and reliable as well as great value for money. All of our pond pumps carry our 2 year 'no fuss' warranty to allow for home owners peace of mind.
Suitable for:
Water features
Ponds
Fountains
Statues
Waterfalls
Pond filters
Salt water
Features:
Reliable performance
Fully submersible
Quiet, continuous operation
Built in flow control
Energy efficient
Foam prefilter
Not approved for drinking water.