Reefe RSF3400 Solar Fountain Pump
World – class solar technology is combined with high quality brushless pumps, to produce a great range. Manufactured to our design and quality requirements with superior technology solar panels for high performance and durability. These fountain kits have all the parts you need included , to suit most applications. The "Max Head" measurement is the maximum lift height in full sun. Units operate in direct sunlight only.
Flow Rate: 3400LT/hour
Power: 18.0W
Voltage: 18V
Outlet: Multi hosetail 25mm-32mm-50mm
Max Head: 3.0m
Cable Length: 5m
Pre-Filter: No 
Flow Control: Yes
Suitable for above ground install: No
Pump Dimensions: 278L x 220W x 119H
Solar Panel Dimensions: 620W x 455H
Solar Panel Watts: 2 x 35
Suits Pond Size: 620 x 455
Save money on electricity and no messy cables!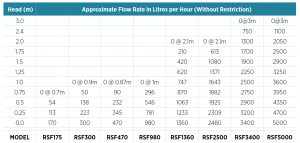 Suitable for:
Birdbaths
Waterfalls
Ponds
Statues
Fountains
Saltwater
NOT SUITABLE FOR
Filtration, Biofilters
Night time operation
Features:
Salt Water Compatible
Flow Adjustment, Threaded Outlet
Run Dry Protection
Extension Cables Available
Kit Includes:
2 x Solar Panel & Support Spike
Pump With Cable
Fountain Nozzles
Float Pad & Spare Impeller
Not approved for drinking water.
2 Year Warranty
Water Pump Care
The pump must be fully submerged in water when in operation or damage will occur. Take care in adding extra water during warmer weather. Failure to follow proper care guidelines voids warranty