Reefe RSF980 Solar Fountain Pump
World – class solar technology is combined with high quality brushless pumps, to produce a great range. Manufactured to our design and quality requirements with superior technology solar panels for high performance and durability. These fountain kits have all the parts you need included , to suit most applications. The "Max Head" measurement is the maximum lift height in full sun. Models RSF300 and larger feature run-dry protection. Units operate in direct sunlight only.
Flow Rate: 16.3LT/min
Power: 8W
Voltage: 12V
Outlet: 13mm MBSP
Max Head: 1.0m
Cable Length: 5m
Pre-Filter: No
Flow Control: Yes
Suitable for above ground install: No
Pump Dimensions: 130L x 85W x 72H
Solar Panel Dimensions: 250W x 330H
Pond Size: 700L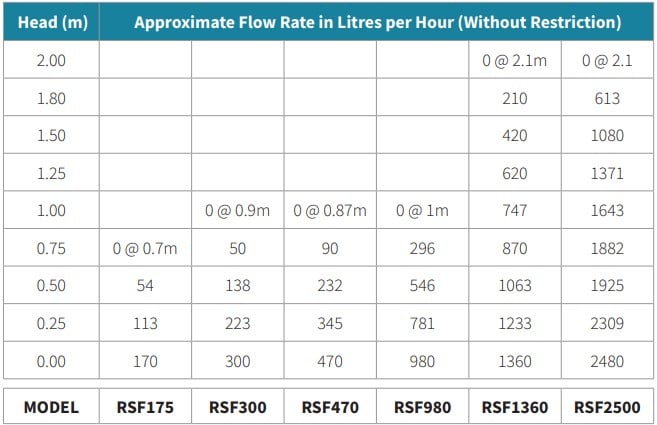 Suitable for:
Birdbaths
Waterfalls
Ponds
Statues
Fountains
Saltwater
NOT SUITABLE FOR
Filtration, Biofilters
Night time operation
Features:
Salt Water Compatible
Flow Adjustment, Threaded Outlet
Run Dry Protection
Extension Cables Available (Refer Page 106)
*Threaded on the RSF2500 is NON-STANDARD thread which is not compatible with BSP
Kit Includes:
Solar Panel & Support Spike
Pump With Cable
Fountain Nozzles (Excluding Rsf2500)
Float Pad & Spare Impeller (Excluding Rsf2500)
Not approved for drinking water.