Reefe RSFB3400 Solar Fountain Pump with Battery Backup
Convert your regular water fountain to a solar fountain today with the Reefe Solar Fountain Kit w/ Solar Panel & Battery Backup – 3400 L/H (RSFB3400).
The RSFB3400 is a premium pump built with world-class solar technology. It features a brushless pump with superior solar panels and quality batteries in a weatherproof case.
This kit comes complete with a battery back-up for night-tiime operation and overcast conditions.
Flow Rate: 3400LT/hour
Power: 2 x 50W
Voltage: 18V
Battery: 12-18V / 24Ah
Outlet: 25mm MBSP
Max Head: 3.0m
Cable Length: 5m
Pre-Filter: No
Flow Control: Yes
Suitable for above ground install: No
Pump Dimensions: 278L x 220W x 119H
Solar Panel Dimensions: 670W x 530H
Solar Panel Watts: 2 x 50W
Number of Panels: 2
Pond Size: 700L
Save money on electricity and no messy cables!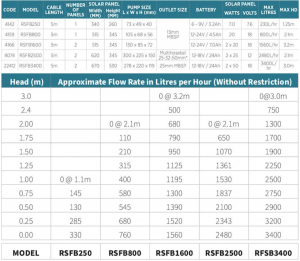 Suitable for:
Birdbaths
Waterfalls
Ponds
Statues
Fountains
Fresh water
Saltwater
NOT SUITABLE FOR
Filtration & Biofilters
Features:
Salt Water Compatible
Fresh Water Compatible
Threaded outlet
Adjustable settings on the battery adjusts the voltage output which determines the run time
Run Dry Protection
5m Cable on pump and 5m cable from battery to panel
Extension cable available
Back-up time 3.5 to 7 hours
Kit Includes:
Solar Panel (x2) & Support Spike
Pump With Cable
Fountain Nozzles
Battery Back-up
Not approved for drinking water.
2 Year Warranty
Water Pump Care
The pump must be fully submerged in water when in operation or damage will occur. Take care in adding extra water during warmer weather. Failure to follow proper care guidelines voids warranty