Sparkle BPS-100 Submersible Water Pump
When there is a need to remove water for drainage purposes then choosing a pump that is going to be able to perform well is a real necessity. It has to be able to deliver on power and durability. For these types of water removal applications the best choice would be the Sparkle Pumps BPS-100 Manual Submersible Water Pump. Aside from the quality and performance capabilities that this pump offers, it also has some great additional benefits and options for it.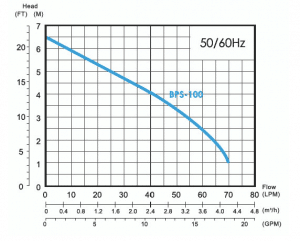 One never knows when a water emergency may arise where water has to be removed from an area. This could be a flooded area indoors or out. Having the Sparkle Pump BPS-100 on hand when such a time arises is a real asset. Then for those times when construction is ongoing and a pit or trench has to be cleared of water then again this pump can handle the task at hand.
This Sparkle Pump has the ability to operate at 70L/Min and can provide a 6.5m lift which should be more than enough for its designated applications. It can be used for the removal of either clean or rain water.
It is built of quality which is highly important in both the performance and durability for a pump that needs to be immersed in water. This pump is made of top quality components that include a resilient fibre glass thermos plastic protection to protect it from the environments that it will be subjected to. It's protective qualities include a 3 pin double insulate plug with a 10m power cable. It also possesses a built in thermal overload protector.
The operation of this pump is through the switch on the power point. The BPS-100 can be operated fully submersed up to 6m deep under water.
The removal of water is something that usually needs to be done as quickly as possible. This means that you really need to have a pump such as this readily available and in top working condition whenever needed. The quality of the Sparkle pump products is something you can depend on whenever quick and hassle free water removal tasks arise.
Many homeowners certainly realise the need for a good source of water delivery but often don't realise that there can be times when water has to be removed as well. There are many different occasions when this need can arise such as….
Your sinks become clogged
Rainy season and areas become flooded
Doing excavation at your home and dug out areas become flooded
You want to drain water that pools in low lying areas around the home
Perhaps you want to drain your swimming pool or hot tub, or large fountain or pond
The convenience of being able to use the Sparkle Pumps BPS-100 Manual Submersible Water Pumps means that you don't have the hassles that come with a non-portable water pump.
Another advantage of using this sparkle Pump is you are going to be able to rely on the power that is needed for consistent water drainage without lack of flow or intermittent flow. This makes it's a big time saver when you want to get the water removal job done quickly. Something else that you will appreciate with the performance of this pump is its ability to be able to drain the water down to an impressive 3mm level. This leaves very little water residue to have to deal with.
When you look at the requirements needed for water removal which is pressure, flow and being able to take it down to a minimal level then you can quickly see that this Sparkle Pump has all that it takes to do this in a quick, and hassle free manner.
SPECIFICATIONS:
Max Head (Pressure): 6.5m (64 Kpa)
Size: 155 x 140 x 240 mm
Weight: 3.30KGS
Ideal For: Clean/Rainwater
Warranty on pump: 2 Years