1000 Litre Stubby Slimline Water Tank
SKU: TP44621
Dimensions: 1200L x 560W x 1935H
Tank Weight: 220KG.
AVAILABLE IN VIC & SA ONLY
The new Stubby range of slim rainwater tanks from Team Poly incorporate modern design with cutting edge technology. These one piece rainwater tanks are manufactured from food grade polymers and are UV stabilised to prolong the life of the tank whilst retaining their look. Designed to fit in spaces where most rainwater tanks cannot the Razor range provide a modern unobtrusive answer to your rainwater tank requirements. The ultra slim nature of the Razor range and the compact nature of the Stubby provides maximum flexibility to choose the best fit for your property. Available in two sizes (1000 litres & 2000 litres).
| | |
| --- | --- |
| Capacity | 1000 Litres (220 Gallons) |
| Availability | Adelaide & Melbourne |
| Length | 1200mm |
| Width | 560mm |
| Height | 1935mm |
| Inlet | 2 x 200mm Strainers |
| Outlet | 20/25mm brass outlet |
| Valve | 20mm ball valve |
| Bracket | 2 x 560mm Razor Bracket |
| Overflow | 90mm overflow screen and elbow |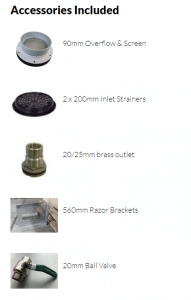 • 2 Overflow positions
• Options for bucket height taps to be added
Tank Colours
Select from our huge range of rain water tank colours we offer.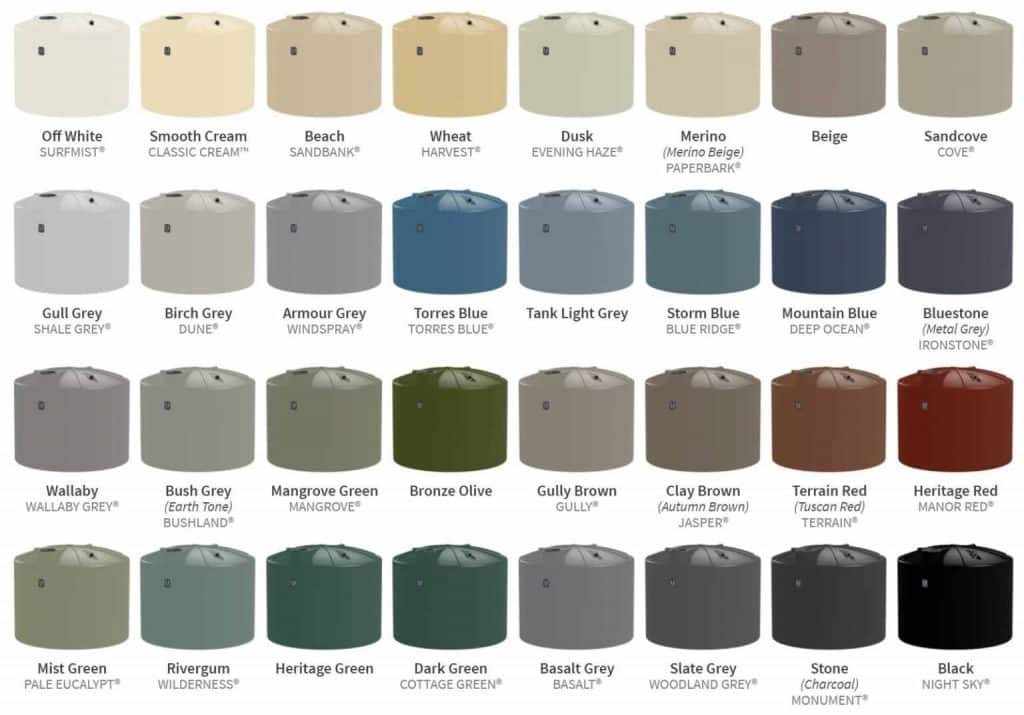 Site Preparation
There are several factors that will determine the most appropriate location of your rainwater tank. First walk around your house and note the locations of your downpipes. The closer the tank is to a downpipe, the simpler your install will be.
Once you have selected an appropriate site, you can begin to prepare this site for the tank.
Check the relevant regulations relating to rainwater tank installation with your local council.
Your Team Poly rainwater tank should be handled with care. When moving into position, avoid rough and sharp surfaces.
The site must be a solid, level and compacted base that extends beyond the diameter of the tank that will not be eroded by wind or rain. Suitable bases include brick, concrete, gravel or solid dolomite surface between 300mm and 400mm in depth.
Water tank stands can be used but must be designed by a qualified consulting engineer.
Tank Plumbing
Please ensure your tank is installed by a qualified plumber in accordance with your local council regulations.
Gutters and Roofing
The guttering on your roof is a key component in your rain harvesting system and will need to be cleared of any leaves or debris. Damaged guttering should be repaired.
Test to see if your guttering directs water to the corner of your house where the tank will be installed. If water is not directed towards the corner of your house then it should be adjusted to maximise your rainwater harvest.
Diagram of Fully Integrated Rainwater System