10,000 Litre Urban Poly Round Water Tank
SKU: UP10000
Dimensions: 2600D x 2100H
Tank Weight: 175KG
AVAILABLE IN VIC ONLY.
The Urban Poly 10000 Litre Water Tank is designed for Australian conditions. Made from food grade UV stabilized material, you are looking at one of the best manufactured tanks in Victoria. With over 60 years of combined history in rotationally moulded plastics, the Urban Poly 10,000 Litre round rain water tanks is the right choice for your home, backyard, shed or rural property. The tanks come with a a 25mm brass outlet which is fitted to your requirement. Standard brass outlet position is 6 o'clock, however with Urban Poly everything can be changed. This includes the size of the fitting. We can install a 40mm, 50mm or even 100mm outlet for your next project.
The Urban Poly 10,000 Litre rain water tank comes with a 400mm inlet strainer fitted at 12. There are three overflow positions. The standard fit out sees the overflow at 2, however we can also fit it at 6 o'clock and 10 o'clock. The tanks are 2600mm (260cm) in diameter and 2100mm (210cm) high to the highest level which is also the inlet point.
All Urban Poly Water Tanks are made from virgin food grade UV stabilized polyethylene. Only quality Brass tank outlets are used in all of our water tank and trough ranges. Manufactured in Australia for Australian conditions. All Urban Poly Round tanks come as standard fit unless custom fit is specified at time of order. The Urban Poly 10,000 Litre Tank comes with a ten year manufacturers warranty.
Inlet

400 mm inlet with leaf strainer at 12 o'clock

Default overflow @ 2

Option: 6 & 10

90 mm PVC overflow with mosquito filter at 2 o'clock.

Default outlet

25 mm moulded-in brass outlet at 6 o'clock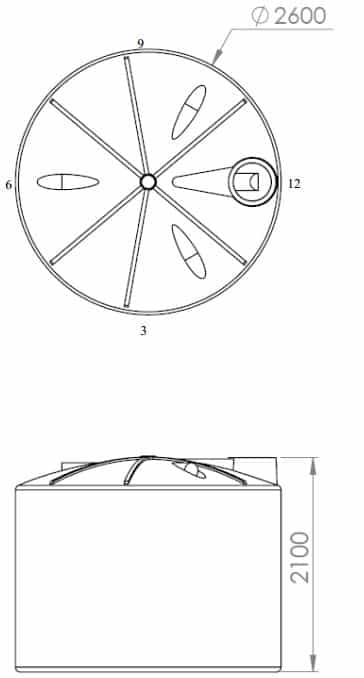 Fittings:
The inlet comes fitted with a 400mm mosquito proof leaf strainer on one end of the tank.
One quality brass 25mm BSP female outlet fitted to your requirement.
One 90mm overflow provision is moulded into the tank.
Please feel free to give our friendly and highly qualified staff a call on (03) 8795 7715 today to discuss custom tank fittings if required.
Tank Colours
Urban Poly tanks are made from the highest quality polyethylene in a range of colours. Each screen or monitor may display colours differently. Please use the colours shown as a guide only. (Bronze Olive no longer available)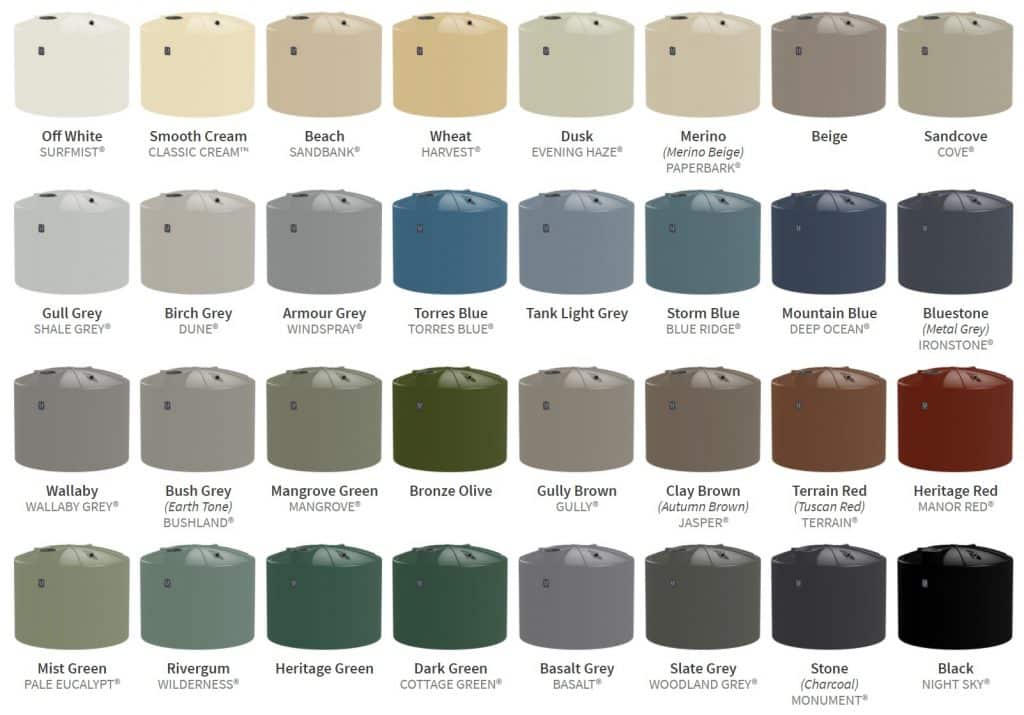 Delivery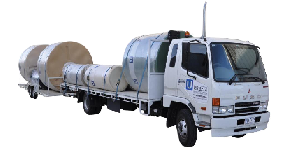 Our delivery vehicles can be up to 19 metres long, 3.5 metres wide and 4.6 metres high. It is the purchaser's responsibility to ensure there is adequate clearance for delivery vehicles through gateways, under carports, down pathways, under trees, and below overhead cables. If there is insufficient access, products will be unloaded at the closest convenient location.
At Urban Poly Tanks, we care about our people, and will not allow our delivery staff to lift tanks over fences or buildings, or to perform deliveries that may cause harm to themselves, other people, or property. Please ensure the product you are considering purchasing can not only fit the desired location, but can be delivered to its final location safely.
Installation
All water tanks should be sited on a stable, flat, level base with at least 100 mm gap between the tank and any fixed object such as a building or fence.
One litre of water weighs one kilogram. So, for example, a full 1,000-litre tank weighs 1,000 kg, plus the weight of the tank itself. That's why it's very important to place your tank on a solid base that will support it evenly and keep it level. The preferred base is a properly constructed concrete slab that is slightly larger than the footprint of the tank.
Because round tanks are inherently stronger than other shapes, they can be installed on a well-compacted 100 mm sand base, as long as the edges of the base are protected from erosion. Any other tank shape, such as a slimline tank, must be must be installed on a concrete slab.