2000 Litre Yarrawonga EZYAS MKII Slimline Water Tank
SKU: YW2000EZYAS
Dimensions: 2070L x 700W x 1980H
AVAILABLE IN VIC ONLY
We are proud to introduce the new and imrpoved "EZY AS TANK MKII", a system that was designed by plumbers for plumbers & builders to save you time and money. The EZY AS Tank is an exciting product that switches between rain water and mains water to service your toilets and laundrys.
Yarrawonga Plastics manufacture our rain water tanks using one piece construction technology. Yarrawonga tanks are only made using Australian UV Stabilised Food Grade Polyethylene Plastic. All Yarrawonga Plastics tanks are thicker at the base thus resulting in superior strength. Yarrawonga Plastics tanks are all fitted with 4 x 25mm Brass outlets (x2 on each end of the tank), 300mm-400mm Mosquito proof Strainer and 90mm Overflow outlet which is also Mosquito proof.
When you buy the tank with your selected pump option, the pump will be installed and ready for your plumber to hook up to the house or garden tap.
All of our products are manufactured to the highest quality not price with a design to suit most needs.
All Yarrawonga Slimline Water Tanks come with a 10 year Manufacturers warranty.
Garden Pump is the Hyjet DHJ800 – Details can be found here.
Domestic Toilet/Laundry pump is the Bianco INOX45S2MPCX – Details can be found here.
Tank Colours
Select from our range of genuine Colorbond rain water tank colours below.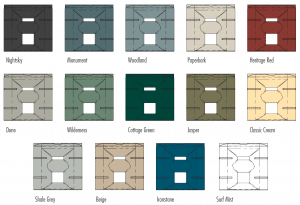 SLIMLINE TANK INSTALLATION INSTRUCTIONS
Slimline tanks must be installed on a smooth, level, reinforced concrete base. Base must be a minimum of 100mm thick and 100mm wider than the tank diameter. Remove sharp objects that may cause damage to the base of the tank.
Slimline tanks must be installed adjacent to a wall with a 50mm clearance. The Slimline is not to be attached or fixed to the wall or fence, the tank MUST be freestanding.
The Slimline tank MUST be placed in a position where it will not be subjected to heavy bumps or knocks.