4550 Litre Polymaster Septic Tank
SKU: ST4550
Dimensions: 3250L x 1640W x 1665H
Polymaster Septic Tanks are fully designed and manufactured in Australia, using only high quality Australian sourced materials. Build your reputation by using Australian made
4550 Litres Capacity
Tested and Certified to AS/NZS 1546.1:2008
Lifting Lugs to Facilitate Placement
Large inspection opening
Totally New Design
Australian Made
*Optional Riser Extension available (555mm W x 530mm H) – Call our team on (03) 8795 7715 for a price


Easy to Handle 
One-piece molded tank, and lifting lugs are incorporated into the design to make it easy to sling the tanks using crane, excavator or other lifting machinery
Pre-Assembled 
Pre-assembled before leaving the factory, to minimize the amount of work required on site. Simply position the tank and connect in and out flow pipes
Engineered Design 
The ribbed design for provides incredible strength and resistance to shape deformation. Extensive work and physical testing has ensured that Polymaster SEPTIC TANKS will be good indefinitely
Extremely Robust 
Manufactured from high quality industrial grade polyethylene, Polymaster SEPTIC TANKS are able to withstand the rigors of the real world. Knocks in transport, jolts and bangs during installation, ground and water pressure after… made tough to make it easy
Compact Design 
Designed to minimize the amount of digging required prior to installation. By utilizing a low profile design, the depth of excavation is minimized, and the hole is easier to backfill after installation.
Delivery Zones: (Tank Available in Zones 1 & 2 Only)
Appropriate lifting equipment (eg crane, forklift or tractor) is required to assist the site delivery of the septic tank – customer to organise.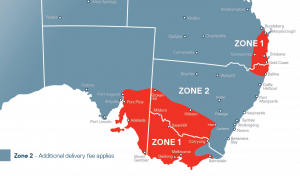 Refer to Tank Delivery and Preparation documents for more information (You can download a copy in the Product Documents Section.)
Lead Times
VIC – 1-2 Weeks
SA – 1-2 Weeks
NSW – 3-4 Weeks
QLD – 3-4 Weeks