600 Litre GRAF Sapphire Underground Pit
SKU: 1909447
As with all of our range, our 600 Litre Vertical Sapphire Underground Tank by GRAF has been finite element analysis tested by a qualified engineer and designed to meet and exceed Australian Standard 1546.1 These tanks are widely used for sewage pump stations, lift stations, storm water pump systems and rainwater holding tanks. Manufactured from quality polyethylene and currently available in blue (as pictured).
Holding tanks are used to temporarily store wastewater before being pumped out, mainly found in remote areas without access to a sewer line. The Sapphire holding tank is ideal solution for volumes up to 1,500 litres.
Numerous connection options for easy installation DN 100 / DN 150
Telescopic / inclinable dome shaft for easy alignment with the connection lines
Easy to transport thanks to its low weight
With crane lugs for easy handling and placement in the excavation
Including seal for easy assembly of the telescopic dome shaft
Sealed to the surface of the terrain
Groundwater stable 600 l and 900 l up to a height of 43 cm from the tank bottom and 1,200 l up to a height of 55 cm from the tank bottom
Unique stability and precise fit of the components
15 Year Warranty
Features
FEA tested by a qualified engineer and designed to meet and exceed the requirements of AS1546.1
Manufactured from polyethylene
Suitable for handling sewage, stormwater, trade waste
Available in blue colour
Specifications
Product Code: 1909447
Diameter: 1125mm
Height: 1045mm
600 Litre Capacity (158.5 Gallons)
Weight: 27KG
Available with polyethylene pedestrian duty access cover/lid OR Class B cast iron lid
Installation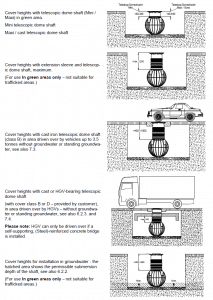 Technical Data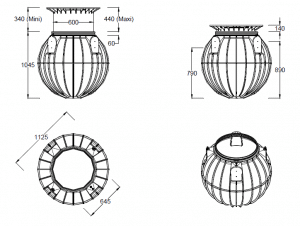 Structure of Shaft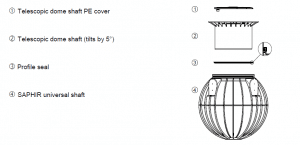 Installation & Assembly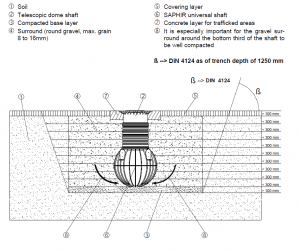 6.1 Foundation
The following criteria must be verified prior to installation:
· The structural suitability of the soil in accordance with DIN 18196
· Maximum groundwater levels / drainage of the subsoil
· Types of loading present, e.g. traffic load
Please note: HGV can only be driven over if a self-supporting, steel-reinforced concrete bridge is installed!
A soil survey should be requested from the local building authority to determine the physical properties of
the soil.
6.2 Trench
To ensure that sufficient working space is available, the base area of the trench must exceed the shaft
dimensions by over 300 mm on all sides. The distance from fixed structures must be at least 1000 mm.
Please note: If the trench depth is greater than 1250 mm, an embankment should be built in accordance
with DIN 4124. The foundation must be horizontal and even and must offer sufficient load-bearing capacity.
The trench must be deep enough that the maximum earth cover above the shaft (see 3 – Installation conditions)
is not exceeded. For the system to be usable all year round, the shaft and water-carrying parts
must be installed in a frost-free zone. The frost-free depth is usually around 600 mm – 800 mm; for accurate
information, please contact the responsible authority.
The substructure is made from a layer of compacted round gravel (grain 8/16, approx. 100 mm – 150 mm
thick).
6.2.1 Positioning on a slope, embankment etc.
If the shaft is installed in immediate proximity (less than 5 m) to a slope, mound or embankment, a
statically calculated supporting wall must be constructed to bear the pressure of the soil. The wall must exceed the shaft dimensions by at least 500 mm in all directions and must be at least 1000 mm away from the shaft.
6.2.2 Groundwater and cohesive (non-water-permeable) soils (e.g. loam)
If it is likely that the shafts will be submerged deeper in groundwater than indicated in the table below, sufficient drainage must be provided (for max. submersion depths and required earth cover, see table). In cohesive, non-water-permeable soils we recommend installing drainage (e.g. ring drainage) for seepage water (not below driven-on surfaces).
SAPHIR universal shaft: 600 litre
Max. submersion depth: 430 mm
Required earth cover (mm): min. 300 – max. 600
6.2.3 Installation below HGV-bearing surfaces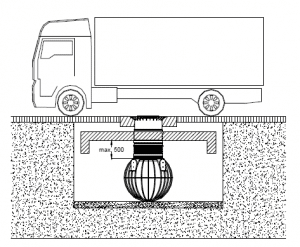 The shaft can only be driven over with HGV in conjunction with a self-supporting, iron-reinforced concrete bridge. To ensure that no additional forces or effects of HGV-bearing are transferred to the shafts, the dimensions and strength of the concrete bridge must be statically calculated.
6.2.4 Installation next to driven-on surfaces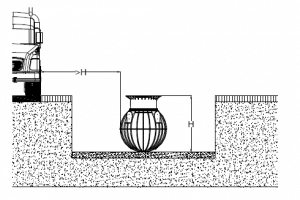 If the shafts are installed next to roadways used by heavy vehicles weighing over 3,5 t, the minimum distance from these surfaces must be at least the depth of the trench.
6.2.5 Connecting multiple shafts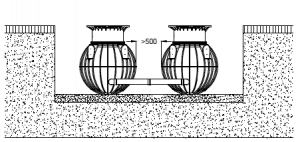 Two or more shafts can be connected by means of drilling a hole in each tank and installing, Garantia special seals and 110mm underground pipe (pro-vided by the customer). The openings must only be drilled with the
Garantia special core drill and to the appropriate size. En-sure that the distance between the shafts is at least 500 mm. The pipes must extend at least 200 mm into the shafts.
6.2.6 Insertion and filling
The shafts should be carefully lowered into the excavation avoiding any sudden jolts. The shaft must be filled 1/3 full of water before commencing the back filling. The back fill should be carried out using 8 to 16mm single sized gravel
and compacted in 30cm (max.) layers until the top of the shaft is reached. The individual layers and the lower zone of the shafts must be well compacted (with a hand tamper). Be careful to avoid damaging the shafts when compacting the gravel. Mechanical compression machines must never be used. The trench surround must be at least 300 mm wide.
Please note: It is especially important for the filling in the bottom third of the shaft to be well compacted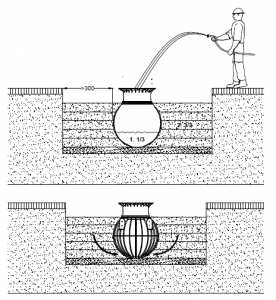 Inspection & Maintenance
The entire system must be checked for tightness, cleanliness and stability at least once every three
months.
The entire system should be maintained approximately every 5 years. All parts should be cleaned and
their function checked. For maintenance, proceed as follows:
· Fully empty shaft
· Clean surfaces and built-in parts with water
· Remove all dirt and contamination from the shaft
· Check that all built-in parts are securely mounted
Please note: During every maintenance the outlet must be checked and flushed if necessary.
GRAF rainwater tank delivery zone
Our 600 Litre GRAF Sapphire Underground Pits are available for delivery within VIC, S.A & NSW – standard lead time is approx one week. Please feel free to give our team a call on 03 8795 7715 today for an obligation free quote.
Lead Times
VIC – Approx 1 Week
SA – Approx 3 Weeks
NSW – Approx 2 Weeks