Atlas Filtri Big F PRO 256 70LT/min with UV
Big F Pro Series UV
The Big F Pro series UV kits are all Italian Made Plug and Play UV units.
The included Italian pre-filters reduce sediment to prevent it from sheltering bugs from the UV light. The Italian UV chamber eliminates harmful pathogens, including bacteria, protozoa (parasites) and some viruses and features an IP54 rated controller.
The units come pre-plumbed, with a single inlet/outlet, mounted on a single bracket under a lockable cover which can protect the unit from weather.
When do I need UV?
If you are on a rural supply (e.g. rain water, bore water etc) that has no protection, installing a UV is an insurance policy. Unfortunately we cannot see harmful bugs like bacteria, parasites or viruses and only find out they have been present if we become unwell. It is not practical to test our water every day, so installing a Big F Pro UV gives you the peace of mind that you are protecting the health of yourself, your family and visitors.
Of course if you have had your water tested and found harmful bacteria present, then you should boil your water until you have a Big F Pro UV installed to protect you from any future contamination.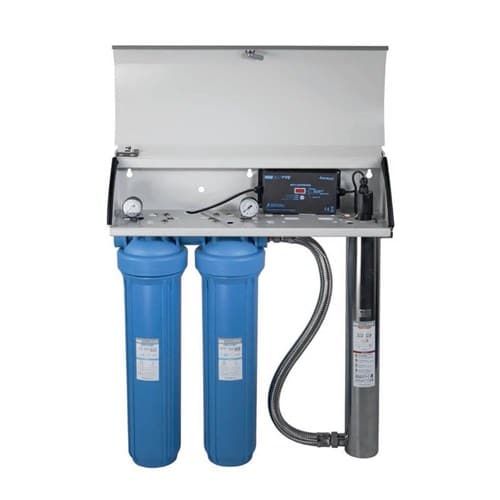 Big F Pro 256
Flow Rate/Dose
70lpm@30mJ/cm2
Filter Cartridge 1
TS 20 Micron Pleated 20" Big
Filter Cartridge 2
CPP 1 Micron Polyspun 20" Big
Power Consumption
61Watts
Power Cable Length
2m
Inlet/Outlet
1" BSPF Inlet / 1" BSPM Outlet
UV Reactor Material
304 Stainless Steel
UV Reactor/Controller Protection Class
IP54
Shipping Weight
22kg
Measurements (Height x Width x Depth)
806mm x 722mm x 205mm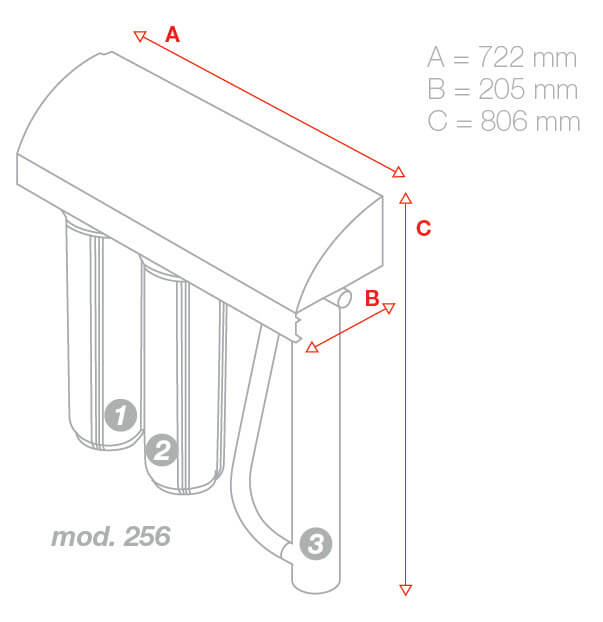 Incoming Water Quality Parameter
UV Transmittance
>95%
Total Hardness
<120mg/L
Iron
<0.3mg/L
Manganese
<0.05mg/L
Hydrogen Sulphide
<0.3mg/L
Operating Conditions
Power Supply
AC 110-240V, 50/60Hz
Max Working Pressure
8.3bar
Working Temperature
4-45°C (Protect from Freezing)
UV Dose
30-40mJ/cm2
Features:
Eco-Friendly, Chemical Free Disinfection
Italian Made
IP54 Rated Control Panel
Digital Monitor Display
Lamp Life Counter
Acoustic Alarm for Lamp Replacement
Lockable, Weather Resistant Cover
High Max Pressure Rating of 8.3bar
Reversible Mounting, choose your flow direction
Benefits:
Safe, chemical free, disinfected Water which protects the health of you and your family from harmful microorganisms.
Italian made means Quality.
The lockable weather resistant cover protects your unit from children, vandalism and can be installed where you need it most.
The reversible mounting means you can have a tidy install every time, no need to run extra pipe.
The digital display and audible alarm keep you safe by letting you know if your lamp is working and when it needs to be changed.
The pre-plumbed configuration means a quick, easy, tidy looking installation and you can be sure that you have the correct size filters in relation to the UV.
Maintenance
Service Intervals
Filter Cartridges
3-12 Monthly or when pressure loss reaches 1bar (15PSI)
UV Lamp
Annually (9,000 hours)
UV Quartz Sleeve
Cleaning is advised at least quarterly. This may vary depending on your water quality – seek the advice of your supplier for your situation
Quartz Sleeve O-Ring
Annually (unless damaged earlier)