Davey Dynajet XJ70P Pressure Pump with Pressure Switch
Davey DynaJet pumps are a compact and economical, single stage jet assisted water pressure system, operated by a pressure switch, with an optional 40P base-mounted tank.
They are ideal for average sized residential homes with modern appliances right through to large double storey homes, pressure boosting applications and for water transfer.
These pumps are also great for domestic irrigation needs.
The DynaJet water pressure systems have been certified and tested to comply with the requirements of the AS/NZS 4020 standard. The AS/NZS 4020 standard stipulates that products in contact with drinking water do not affect the taste or appearance of the water, do not support the growth of micro-organisms and do not release cytotoxic or mutagenic compounds or metals into the water.
Motor / power: 800W
Max. flow: 70T/min
Head: 48m
Inlet: 1.25″F / 32mm
Outlet: 1″F / 25mm
Pressure: 480kPa
Max Suction Head: 7m
Body: Glass filler noryl
Impeller: Glass filler polycarbonate
Pump Shaft: 303L Stainless Steel
Mechanical Seal : Carbon Ceramic (synthetic)
Warranty on pump: 2 Years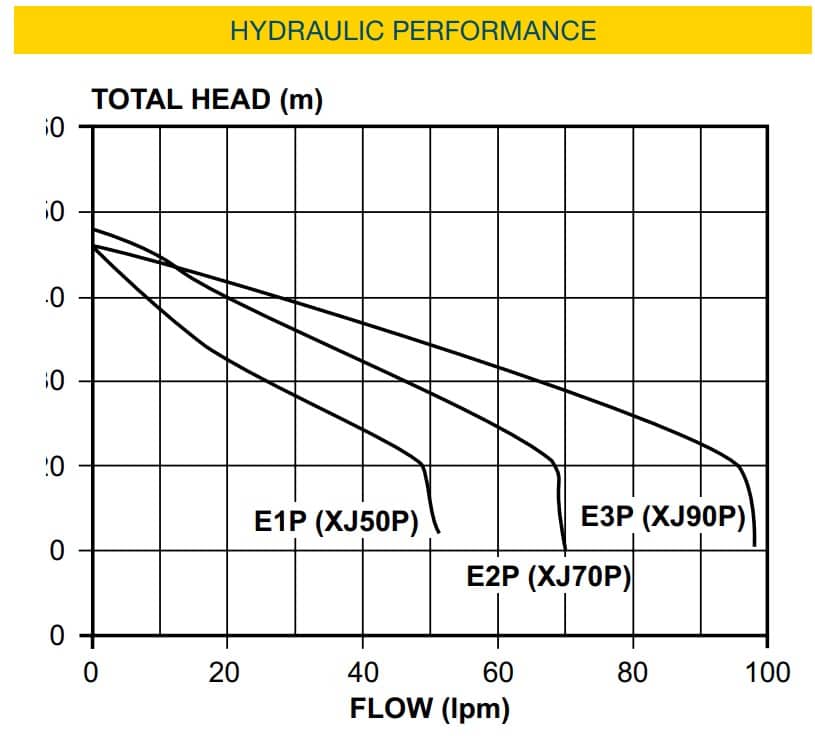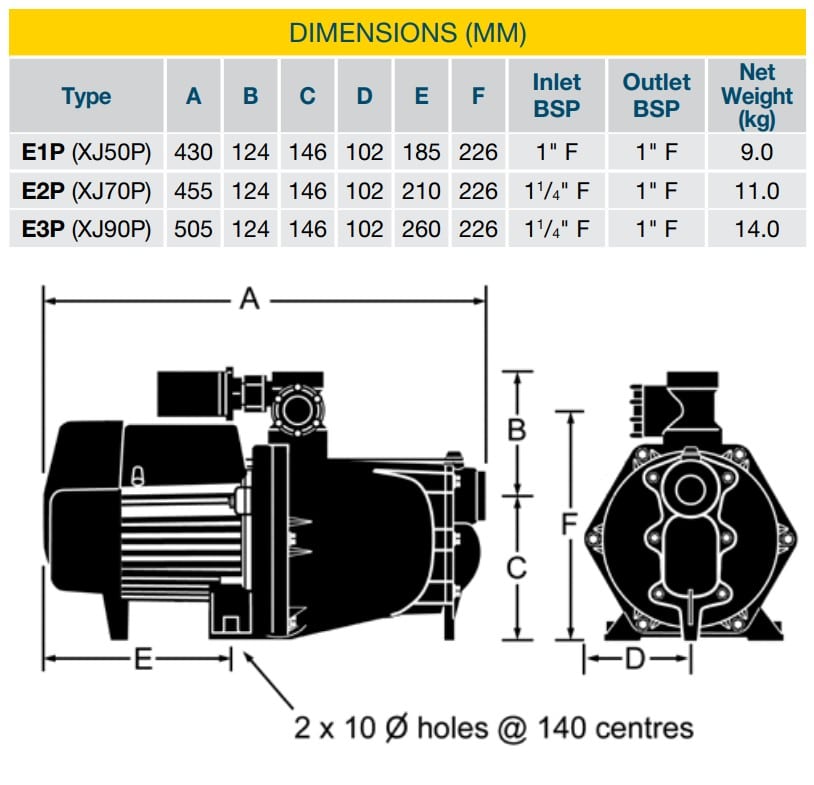 Dynajet XJ pumps are economical, compact 50, 70 and 90lpm single stage jet assisted centrifugal pumps.
Ideal for average homes with modern appliances to large double story homes
Domestic water supply
Pressure boosting
Automatic water transfer
As well as for domestic irrigation from shallow wells or sand spears
Overhead or high tank filling
Pressure boosting
Water transfer
Pump:

Single stage jet assisted centrifugal with closed vane impeller.
Brass pump shaft sleeve.
Internal suction side check valve fitted.
Mechanical shaft seal.
Pressure switch control with adjustable cut-in and cut-out pressure.
Motor:

Davey manufactured.
2 pole, 2850rpm, 50Hz. TEFC with IP55 enclosure.
Class F insulation.
Permanently split capacitor design.
Double contact sealed C3-HTG rated ball bearings.
Protected against both high operating temperatures and high current by a built-in automatically resetting thermal overload.
Tank:

Required – purchased separately. Davey Supercell 8C or 18C recommended.
Benefits:

Manufactured from highest quality corrosion resistant materials
Compact foot print for quick and easy installation
Fully adjustable pressure switch allows for installation adjustments
TEFC motor – corrosion resistant and excludes dust and dirt
Motor and pump designed for frequent starts
Every unit individually tested to guarantee reliable operation
Low maintenance
Easy to service if required