5500 Litre Urban Poly Squat Round Water Tank
SKU: UP5500
Dimensions: 2290D x 1550H
AVAILABLE IN VIC ONLY
All Urban Poly Water Tanks are made from virgin food grade UV stabilized polyethylene. Only quality Brass tank outlets are used in all of our water tank and trough ranges. Manufactured in Australia for Australian conditions. All Urban Poly Round tanks come as standard fit unless custom fit is specified at time of order.
All Urban Poly Round Water Tanks come with a 10 Year Manufacturers Warranty
| | |
| --- | --- |
| SKU Code | UP5500 |
| Capacity | 5500 litres (1210 gallons) |
| Dimensions | 2292 mm x 1550 mm (DxH) |
| Inlet | 400 mm inlet with leaf strainer at 12 o'clock |
| Default overflow | 90 mm PVC overflow with mosquito filter at 2 o'clock |
| Default outlet | 25 mm moulded-in brass outlet at 6 o'clock |
Fittings
1 x Inlet strainer (mozzie proof), 1 x Overflow, 1 x 25mm Brass pump outlet.
Please feel free to give our friendly and highly qualified staff a call on (03) 8795 7715 today to discuss custom tank fittings if required.
Tank Colours
Select from our huge range of rain water tank colours we offer. (Bronze Olive no longer available)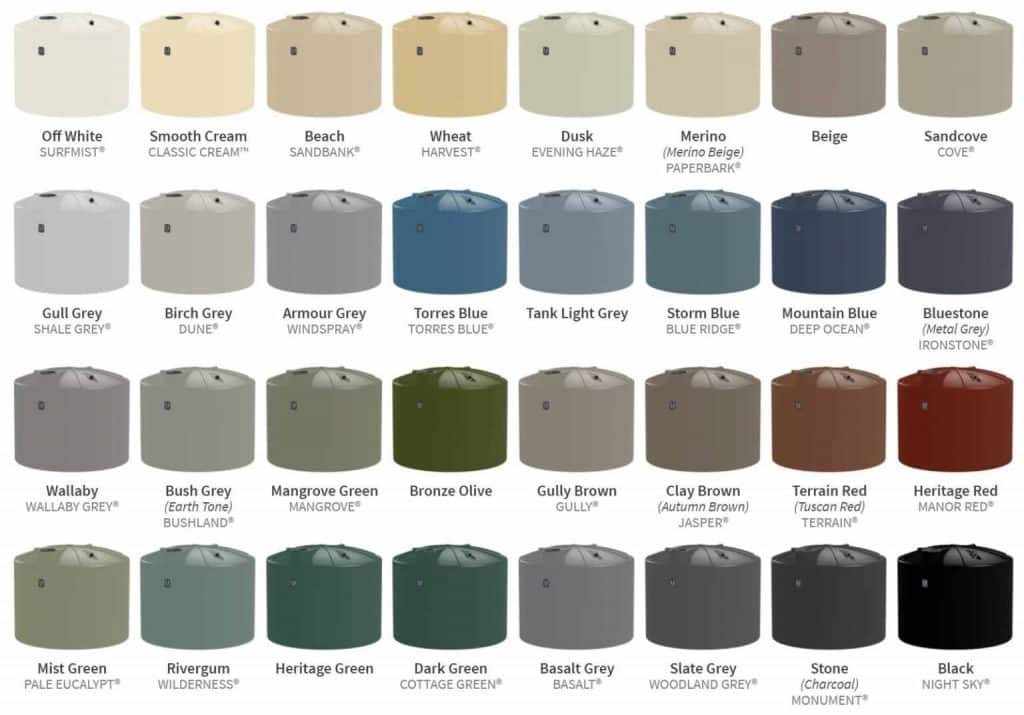 INSTALLATION
All water tanks should be sited on a stable, flat, level base with at least 100 mm gap between the tank and any fixed object such as a building or fence.
One litre of water weighs one kilogram. So, for example, a full 1,000-litre tank weighs 1,000 kg, plus the weight of the tank itself. That's why it's very important to place your tank on a solid base that will support it evenly and keep it level. The preferred base is a properly constructed concrete slab that is slightly larger than the footprint of the tank.
Because round tanks are inherently stronger than other shapes, they can be installed on a well-compacted 100 mm sand base, as long as the edges of the base are protected from erosion. Any other tank shape, such as a slimline tank, must be must be installed on a concrete slab.