Bianco MULTI36NXTP Pro Horizontal Multistage Pressure Pump 808399
The pump is a horizontal multistage pressure system pump supplied wired and ready to install. Used especially for supplying water to domestic installations.
The pump is characterised by:

Automatic electronic pump control fitted and wired.
Automatic electronic control provides run dry protection and constant pressure at low flows. Automatic electronic control has auto restart and in-built check valve.
 Corrosion resistant pump body, diffuser and impeller.
 Mechanical shaft seal.
 Stainless Steel barrel union
Comes complete with plug and play leads.
240V single phase TEFC motor with in-built auto reset thermal overload.
Flows to 72 l/m
Heads to 36m
Electrical data:
Rated voltage: 240V
Mains frequency: 50 Hz
Rated output: 750W
Horse Power: 1.0HP
Flow Rate: 72L/m
Taps: 7  taps
Current: 2.6 amps
Motor duty: Continuous
Motor Type: Asynchronous, TEFC
Motor Protection: In-built
Ingress protection: IP 55
Insulation class: F
Power cable length: 1.2 m H07RNF
Gross weight: 12 kg
Pump Dimensions: 365L x 158W x 375mmH
Liquid: Clean water temperature range: 2-50 °C
Materials: Pump body, Diffuser, Impeller: Stainless Steel Mechanical seal: Carbon/Ceramic/Nitrile o rings: Nitrile
Installation: Maximum ambient temperature: 50 °C
Maximum operating pressure: 8 bar
Pipe connections suction/discharge: 1 " BSP F / 1″ BSP M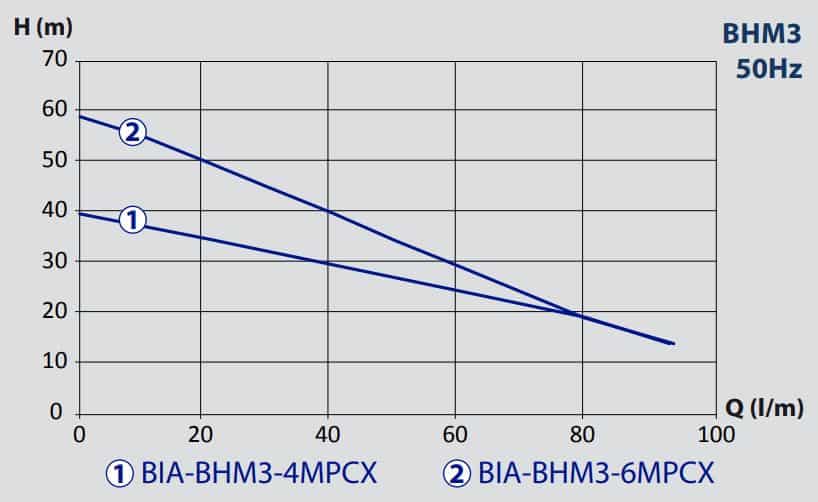 Controller
This pump includes the Bianco iCON nXt PRO series of pump controller.
The nXt PRO Controller is designed and tested in Australia to ensure operation in the toughest of environments, combining innovative technology with robust proven architecture to guarantee constant supply of pressurised water when and where you need it the most.
Controller Features
Digital display gives you a real time indication of system pressure
Anti-cycle Protection
Dry run protection with auto restart function that tests for water availability every 24hrs
Anti-seize function if pump has not operated for last 24 hours
Controller automatically restarts pump after a power failure
Easy assembly and removal using push-n-connect fitting with U clip
Complies to AS/NZ 4020 drinking water standard
Over pressure protection turns pump off when 10 bar is reached
Overload protection
Controller Modes
Two operational modes:
Mode One – Adjustable cut in pressure setting.

Controller stops pump when flow drops.

Mode Two – Adjustable cut in and cut out pressure.

Shut down governed by pressure. Requires pressure tank.
Controller Flow Curve

nXt PRO Controller Data
Function
ON/OFF + Config
Modes
2
Size
2.2Kw
Rated Voltage
220-240V AC
Max Amps
16
Rated Power
2200w
Rating
IP65
Union Size
1″
Start Pressure
Adjustable
Stop Pressure
Adjustable
Max Pressure
10 bar (145PSI)
Max Liquid Temp
40°C
Cable to Pump
Plug and Play
Flylead for Pump
When sold as control only
Power Cable
10AMP
Communication
–
Accessories (Sold Separately)
15 AMP Cable
1 ¼" Union Kit