Davey D25VA Vortex Sump Pump
A Davey all-rounder, the General Purpose Vortex Sump Pumps are able to pump clean or grey water of neutral pH, with some soft or fine solids. Suitable applications include sump emptying, septic effluent disposal, water transfer or pumping of light slurries and factory waste. The D25VA models are suitable for pumping clean water or grey water containing some small, soft solids. The vortex, open impeller design is less susceptible to blockages.
"A" models include auto float switch
Power: 250W
Max. flow: 240T/min
Head: 6.5m
Outlet: 1½″F / 40mm
Maximum sumbergance: 12m
Maximum Operation Temperature: 50ºC
Maximum soft solid diameter: 20mm
Warranty on pump: 2 Years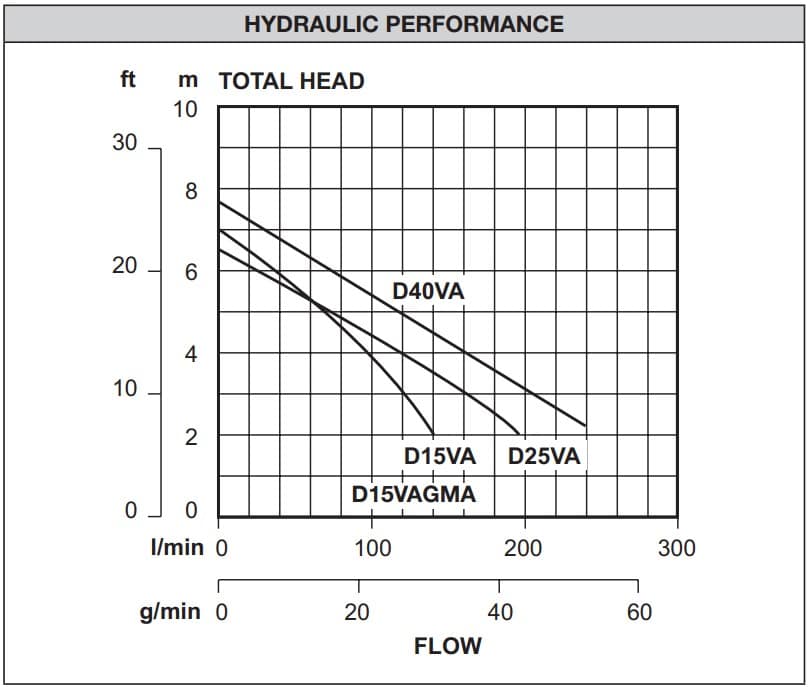 Materials of Construction
Impeller: Polycarbonate
Pump casing Glass Filled Polycarbonate
Mechanical seal (pump end): Silicon carbide / ceramic oil in bath
Shaft seal elastomer: Nitrile rubber
Pump shaft: 304 Stainless Steel
O-rings: Nitrile rubber
Motor shell: 304 stainless steel
Handle: 304 stainless steel
Fasteners: 304 stainless steel
Float & power supply leads: 10m HO7RN-F oil resistant

Weight: 9.0kg
Suitable Fluids: Clean or "grey water" of neutral pH containing up to 10% small soft solids or 1% fine solids. Some wear should be expected while pumping hard solids in suspension.
Electrical Data
Output: 250W
Starting Amps: 12.0 A
Running Amps: 2.0 A
Applications
• Grey water pumping
• Sump emptying
• Septic effluent disposal
• Water transfer
• Pumping of light slurries and factory waste
Installation & Priming
Use a rope to position and retrieve the pump. Do not lower or retrieve the pump using the power lead as this may damage the cable entry seals, causing water leaks and unsafe operation. Don't use this product for recirculating or filtering swimming pools, spas, etc. While these pumps are built to high safety standards, they are not approved for installations where people will be in the water while they are operating. Don't pump abrasive materials. Sand and grit in the water being pumped will accelerate wear, causing shortened pump life. Keep your pump clean, particularly in situations where lint, hair or fibrous materials may get bound around the pump shaft. Regular inspection and cleaning will extend pump life. Make room for the float switch to operate.  automatic models have a float switch to turn them on when the water level rises and turn them off again when it has been pumped down to the safe operating level of the pump. If the float switch is not free to rise and fall, correct pump operation may not be possible. Don't run your pump dry