25,000 Litre GARANTIA Platin XL Underground Water Tank
SKU: 391001 PLATINXL
Dimensions: 12005L x 2250W x 1910H
Weight: 1105kg
Do you want to harvest rain water without valuable surface space being taken up by a tank? Graf's underground water tanks are made in Australia according to a patented and leading German-engineered design that provides optimum strength and a self-cleaning filter.
They are your perfect solution and so easy to install that two friends, two shovels and one morning is all that is necessary. No ballasting is necessary for the foundation and tanks come with child proof covers.
Rotating tank dome to easily align the connecting lines
Available with a second tank dome as an option
Suitable for HGV loading up to a vehicle weight of 30 t (66138 lbs)
Flexible connection up to DN 300 (12″)
Connection openings with prefitted DN 150 (6″) lip seals
Tank height of just 125 cm (4′ 1″)
High-quality, integrated DN 150 (6″) filter technology
Dome opening with stainless steel profile for precision fit and secure mounting
Connection fitting of up to DN 200 (8″), on tank dome of up to DN 300
GarantiaXL / PlatinXL Installation Guide and Conditions
Coverage areas with telescopic dome shaft in green areas. (Top Picture)
Maximum coverage heights with extension and telescopic dome shaft in green areas only. (Middle Picture)
Cover heights with cast iron telescopic dome shaft (Class B) in area driven over by vehicles uo to 3.5 tonnes. (without Ground water and Stratum Water) (Bottom Picture)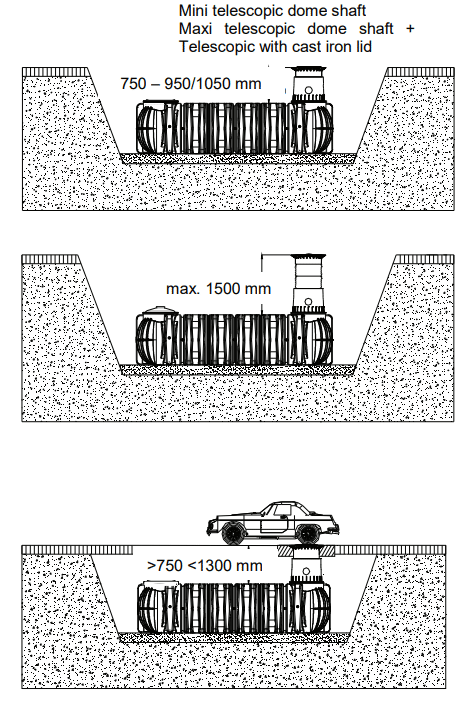 Technical Data PlatinXL (Connection option DN100)
L = 12005mm
W = 2250mm
H1 = 1250m
H2 = 1300mm
Htot = 1910mm

GarantiaXL / PLatinXL 25,000LT Tank Structure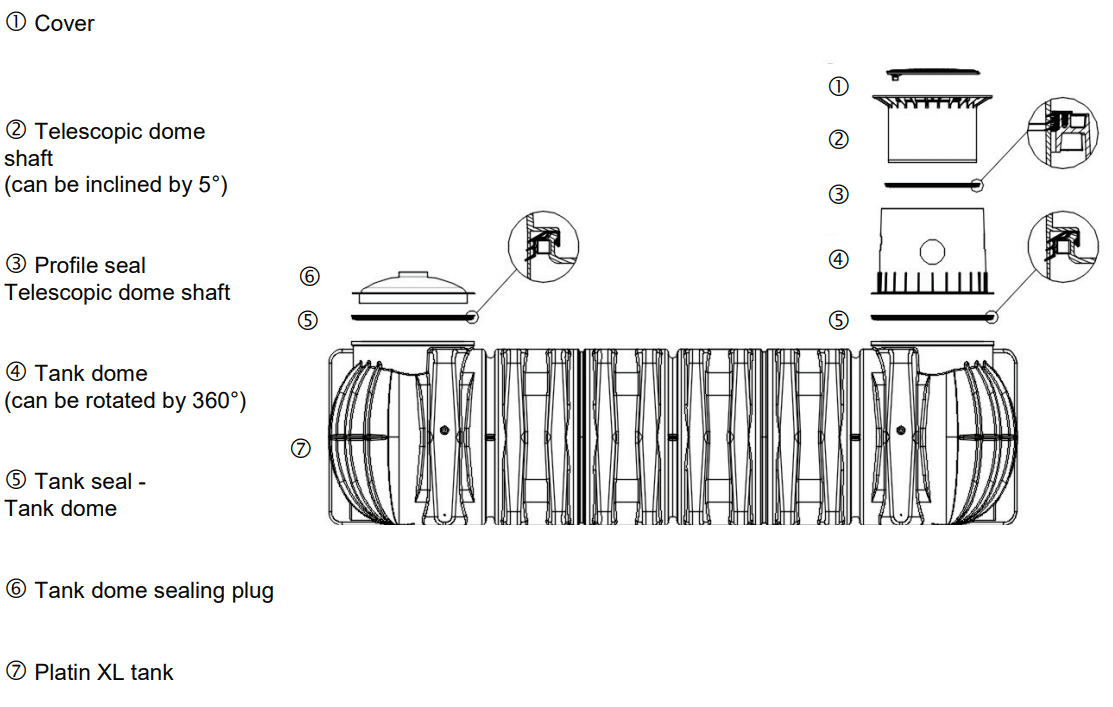 Graf PlatinXL Installation and assembly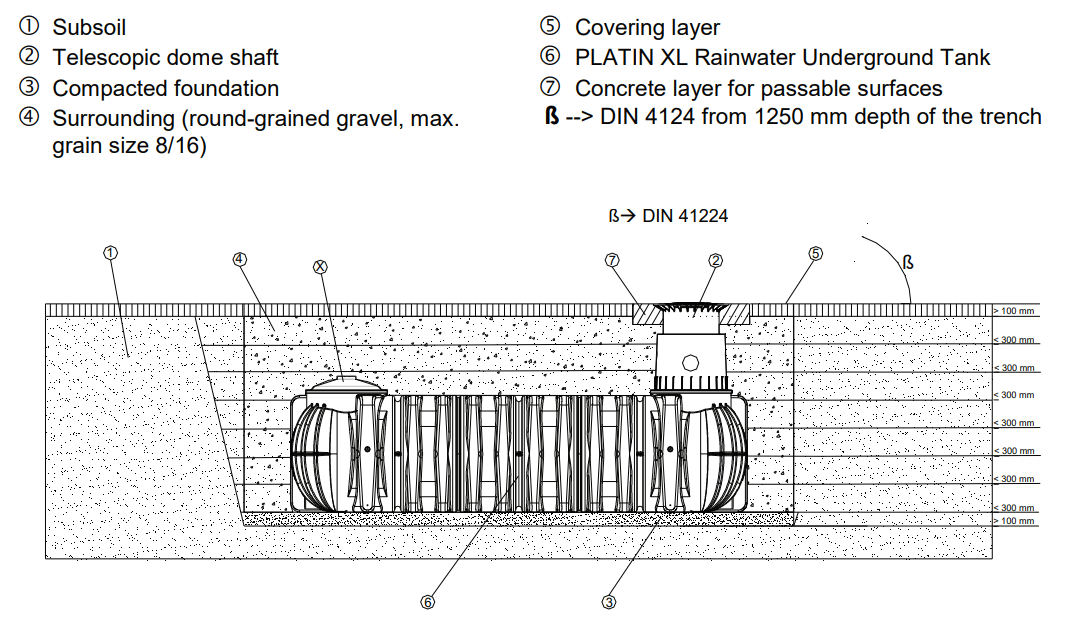 Construction Site
Under all circumstances, the following points must be clarified prior to installation:
The structural suitability of the ground according to DIN 18196
Maximum groundwater levels which occur and drainage capability of the subsoil
Types of load which occur, e.g. traffic loads
An expert ground report should be requested from the local planning authority to determine the physical characteristics of the subsoil.
Trench
To ensure that sufficient space is available for working, the area of the trench must exceed the dimensions of the tank by > 100mm on each side; the distance from solid constructions must be at least 1000mm.
If the depth of the trench is > 1250mm an embankment must be designed according to DIN 4124. The construction site must be horizontal and plane and must guarantee sufficient load-bearing capacity.
The depth of the trench must be dimensioned so that the maximum earth coverage above the tank is not exceeded. To use the system throughout the entire year, it is necessary to install the tank and those parts of the system which conduct water in the frost-free area. The frost-free depth is usually approximately 600mm – 800mm; precise information in this regard can be obtained from the responsible authority.
A layer of compacted, round-grain gravel (grain size 8/16, thickness approximately 100-150mm) is applied as the foundation.
Connection of multiple tanks
Two or more tanks are connected via the assemble services by means of Graf special seals and basic pipes (to be provided at construction site). The apertures must be drilled to the corresponding size using only the Graf special crown bit. It must be ensured that the distance between the tanks is at least 600mm. The pipes must project at least 200mm into the tanks.