7,410 Litre Kingspan Steel Round Water Tank 
SKU: RD-2300-1785
Dimensions: 2300D x 1785H
Enjoy the benefits of harvesting your own rainwater throughout the year. Whether its for a streak free finish when washing your car, providing an alternative water supply for your garden during water restrictions or for use in your home, you can trust a Kingspan water tank to safely store your rainwater for many years to come.
Our range of residential water tanks are made with genuine Australian Bluescope AQUAPLATE® Steel and have a fully engineered internal stainless steel support frame for long term durability. Depending on the tank design, our tank capacities  can range from 600 litres up to 29,000 litres and come in a huge range of Colorbond® colours.
Choose from popular sizes or custom build to fit
Delivered and installed by our own highly trained installers
Industry leading customer service and manufacturer direct warranty
Manufactured with genuine Australia BlueScope AQUAPLATE® Steel, which is specifically designed for water tanks.
We can to manufacture our tanks to almost any size, shape or colour to suit your individual requirements.  Round, Slimline, Modline, tall or squat – Be Creative!
Kingspan Round Water Tanks come with;
400mm leaf screen and light guard
90mm or 100mm overflow fitting
25mm threaded tank outlet
25mm brass ball valve

Additional fittings are available on request, and the location of the fittings can be specified for each tank.
Security for Fire
Steel tanks have been proven to out-perform other tanks in bushfire situations. In both real-life situations and testing undertaken by the Bushfire Cooperative Research Centre steel tanks surpassed other materials in both length of test and structural integrity of material – There when you need it!
Tank Base
Tanks should not be placed directly onto the ground and must be installed on a firm, stable platform with no overhang of the tank over the edge of the base. For further information refer to Kingspan Tank Base Preparation Guide. (You can download a copy in the Product Documents Section.)
Inlet Strainers
Anodised aluminium mesh or stainless is recommended for Inlet Strainers. Copper or copper alloys must not be used. Overflow diameter should match inflow pipe diameter. A PVC Overflow with appropriately contoured flanges or a stormwater pipe adaptor should be fitted and a gauze filter should also be fitted to exclude mosquitoes.
Odour & Taste
Care should be taken to ensure that contaminants are not introduced into the water tank. In the event that any odour or taste is noticed, the catchment area should be checked for contaminants such as lichen or deceased animals as these are known to affect water quality. New tanks should be flushed out if slight odour or taste is present.
Quality Assurance
Kingspan operates under the ISO9001 Quality Management System. Each tank passes through a 20 point quality inspection. Tanks are water tested for structural integrity.
Tank Colour Selection
Tanks come pre-finished or painted. Pre-finishsed colours are included in the price and spray painted tanks incur an additional charge. Different states have different colour options and you can see which colours are available in your state in pre-finshed or spray painted in the colour list option above.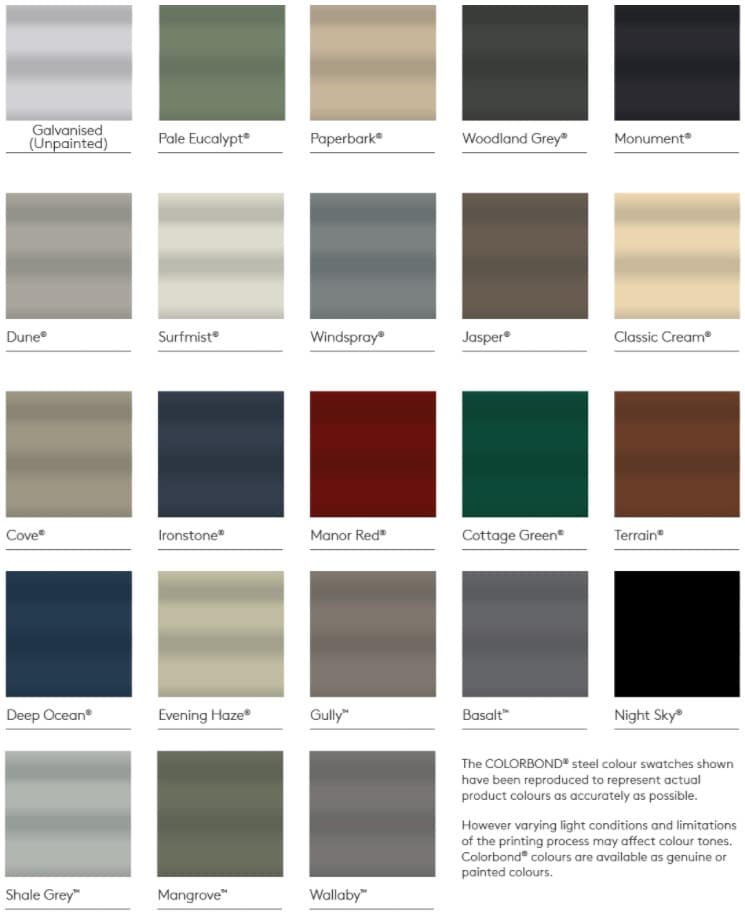 Delivery Zones
Kingspan manufactures and delivers from three plants. They are in Smithfield NSW, Yatala QLD and Epping VIC. Delivery zones are based on the manufacturing plants, and you can determine your delivery zone based on the information below.
From:
Zone 1 & 2
0-120km
Zone 3
121-180km
Zone 4
181-240km
Zone 5
241-300km
Zone 6
301-450km
Epping VIC
$250
$315
$375
$425
$700
Smithfield NSW
$250
$315
$375
$425
$700
Yatala QLD
$250
$315
$375
$425
$700
Delivery Process | Conditions
Delivery to site with two staff. Some larger tanks and difficult sites may require more staff
Placement onto slab; provided access is safe and unobstructed
No lifting permitted above waist height or over fences etc.
15 minute time limit maximum on-site for drivers
Customers responsible for care of tank once delivered
Refer to Tank Delivery and Preparation documents for more information  (You can download a copy in the Product Documents Section.)