ASC Water Tanks Quick Q&A on Underground Water Tanks
When it comes to water storage, the first thing that most people think of is a large, above ground tanks. But what if you don't have a lot of space? What if your yard isn't exactly flat? Well then, an underground water tank may be just what you're looking for! These tanks are perfect for storing fresh drinking water in domestic homes and come in both plastic and concrete varieties. Keep reading to learn more about these necessary household items. We have put together some of the common questions we get asked. All of these questions are important to know before you set out to buy an underground tank.
What are underground water tanks used for in Australian domestic homes?
Underground water tanks are used for storing the household's potable (drinkable) water supply. The tank provides a buffer and stop gap between low rain catchment levels or periods of high consumption, meaning that things like flushing toilets don't affect your drinking water supply. Most new homes that are built today with an underground water tank, will use the water to supply toilets, laundry and/or garden, via a submersible pump in the tank, or an external surface mounted pump.
What sizes do underground tanks come in?
Different sizes are available depending on the home or project needs. It is important to find a water tank that will fit into your backyard, and won't take up too much space in order to do its job properly! Some tanks can hold as little as 1500 litres of water while others may be able to store over 500,000 litres. The cost also varies depending on the capacity as well as the style of underground water tank you select.
Underground Water Tank Dimensions
What are the types of underground tanks?
– a plastic underground water tank
– a build onsite liner underground water tank
– a concrete underground water tank.
They all have their pros and cons, so it is important to keep in mind what you want as well as the amount of space that will be taken up by your new purchase! Plastic underground tanks are the most common for our domestic Australian market. They are the cheapest to manufacture and install, as well as the quickest and easiest to install. ASC Water Tanks does not sell concrete underground water tanks.
How much does an underground water tank cost?
The cost of an underground tank can vary depending on the size, type and installation. On average, you will spend between $3000 and $5000 for the installation of a plastic water tank including excavation costs. The price may be lower or higher depending on your circumstances! If you are installing an underground water tank at the time of construction, your installations costs will be much lower. On average a 3000 Litre underground water tank will cost approximately $2300 and a 5000 Litre Underground water tank will cost around $3100. You need to allow for riers and class B lids in installations where the tank is being installed in a driveway or trafficable area.
Can I use an underground water tank for detention use?
Yes, you can use an underground water tank for detention purposes. We can setup your tanks with detention fittings to suit your site plan and building requirements. Detention systems are becoming more and more popular in our urban building environment. See the below example of just one way in which we can setup your detention underground water tank.
What does an underground water tank look like?
An underground water tank is typically made from polyethylene or high density polyethylene, and are manufactured in a variety of sizes and shapes. Underground tanks need to be installed completely below ground level for maximum protection against the elements, as most of them don't have UV stabilizers to protect the polymers from the suns UV rays over long term exposure. Below are some examples of underground water tanks that we sell at ASC Water Tanks.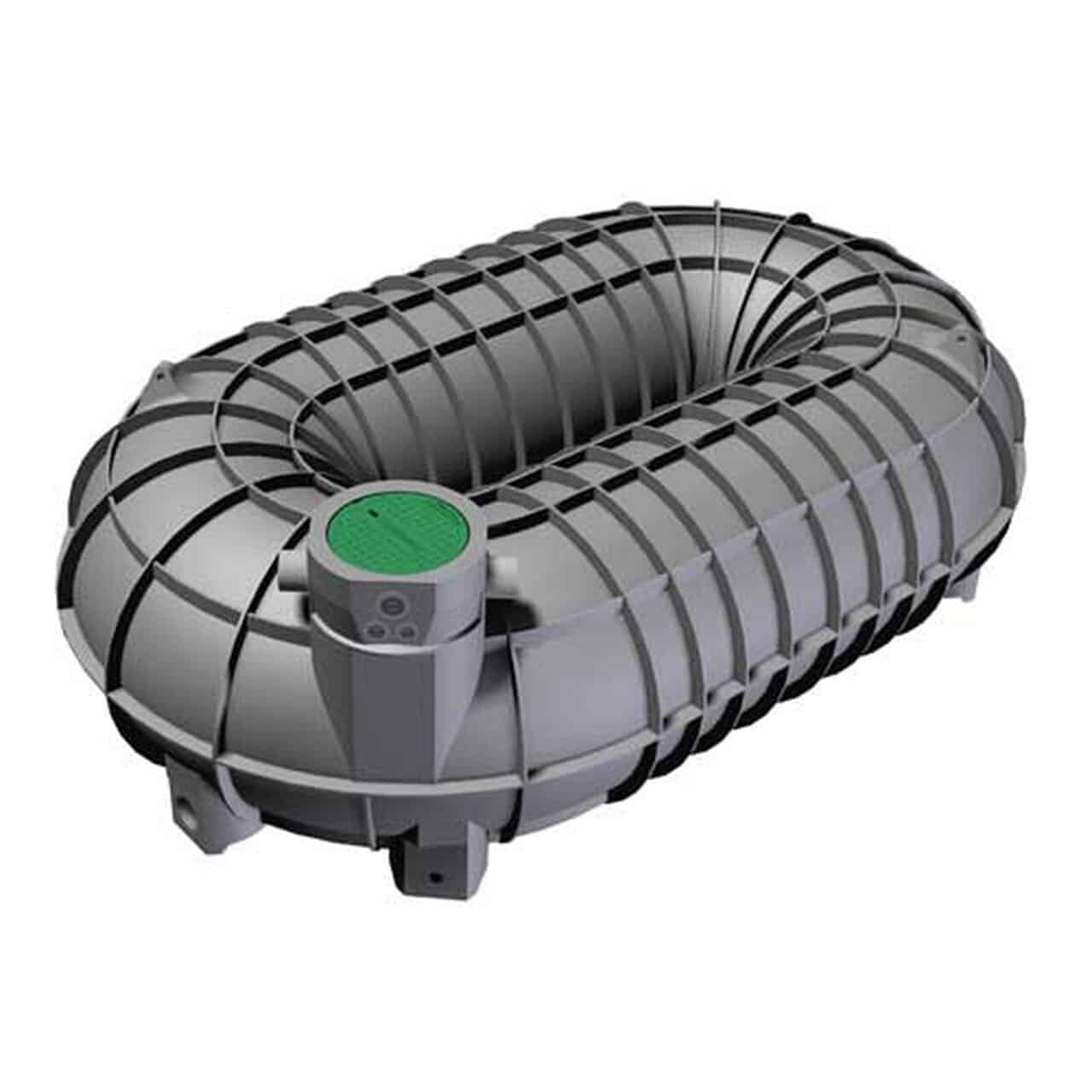 What are the differences between the brands?
The quality of all the underground water tanks is the same between the tanks. They are all made to an exacting Australian Standards and designed to withstand a lot of stress from being installed underground. The biggest differences that factor into play when selecting your underground water tank is the tank dimensions and whether you need to install the tank under a driveway, where the tank must hold up under extreme weight from vehicles. We carry Australia's biggest brands including GRAF Tanks, Polymaster, and Tankmasta.
Where can I buy an underground water tank?
ASC Water Tanks in Melbourne is your leading underground water tank specialist. We not only carry the largest range of tanks in our catalogue, we also carry the largest range of undergrounds in stock in the Australia. With over 80 tanks in stock, you can find reliable supply with us, and also the quickest turnaround in the industry from supply to delivery. Builders and plumbers have been buying underground water tanks from ASC for the past decade at the best prices, and backed up with industry best knowledge and service.
ASC Water Tanks have been supplying Australian homes with rainwater tanks and pumps since 2007. We sell top-grade Australian Made water tanks to support our economy and to deliver a superior product to our customers and have industry experts able to assist in your next project.
To discuss your next water pump set up for your rainwater harvesting system at home or irrigation system, contact us here or give us a call on 03 8795 7715.
Article By: Anant Yuvarajah (Director)