Kingspan Rhino 40,000LT Rural Rain Water Tank 
Kingspan Rhino rural water tanks are built tough with genuine Australian BlueScope ZINCALUME® steel and are available in the full range of COLORBOND® colours. Tanks range in size from 26,000 litres up to 365,000 litres. All tanks have a reinforced food grade 7-layer liner to keep your water fresh, making them ideal for rural, farming and residential applications.
As a market leader established for over 25 years and backed by a 20 year conditional warranty, an Australian made Kingspan Rhino water tank is the ideal solution for your rainwater harvesting and bore water storage needs.
Tank Details:
Tank Code: RT-40
Capacity (Litres): 40,723 LT
Capacity (Gallons): 9,049 Gal
Pad Diameter: 6.5m / 21.33 feet
Tank Diameter: 4.85m / 15.91 feet
Tank Height: 2.2m / 7.22 feet
Standard Inclusions:

50mm outlet and ball valve
Tank inlet with leaf filter basket or 50mm inlet
100mm bell mouth overflow
50mm scour drain
Removable internal/external ladder
Rhino Reinforced food grade liner
Bluescope Steel corrugated wall & roof
Hot dipped galvanised roof trusses
Magnesium sacrificial anodes
Lockable Access Hatch
Reinforced Food Grade Tank Liner
Kingspan's Australian made Aquamark Liner is fabricated with a unique 7 layer construction which offers great durability, flexibility and strength. As one of the most critical components of a water tank, they ensure that your water stays fresh, taste-free and protected from contaminants.
Fabricated in-house, using state-of-the-art material and machinery, all tank liners are manufactured to comply with AS4020. Qualified liner fabricators use the latest welding techniques and state of the art machinery to produce liners of the highest quality.
Manufactured in our Western Australian factory under a quality management system certified to ISO 9001, and with over 20 years of experience, you can have a peace of mind knowing that we fully stand behind our product quality and services.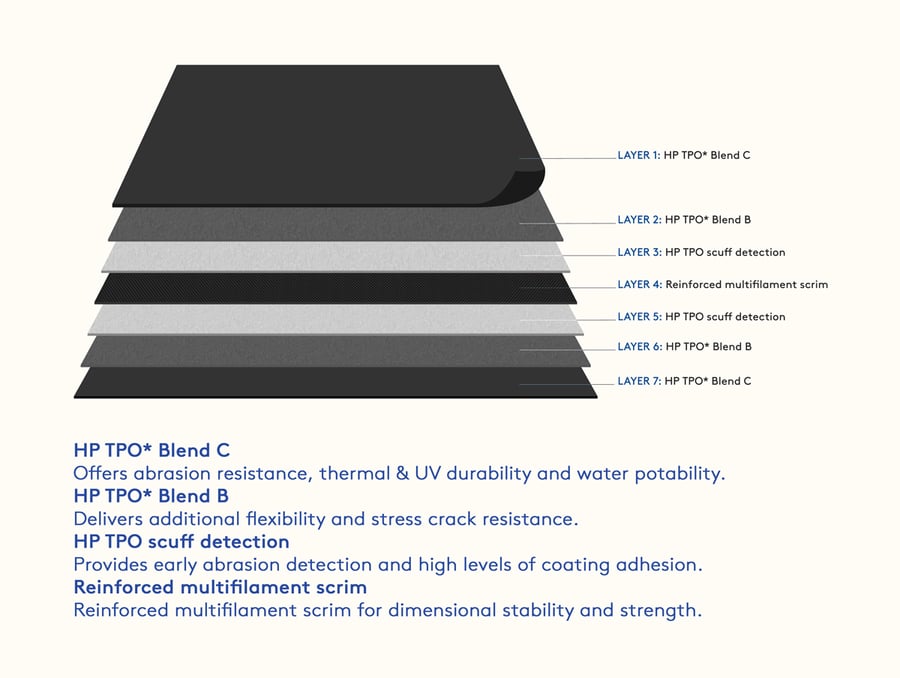 Our tanks are manufactured as a kit and sent to site for installation by our experienced team. It is the customer's responsibility to prepare a level pad of sand or crusher dust before installation can proceed. The pad needs to be 150mm deep at the specified diameter.
Kingspan Rhino provides detailed pad specifications to all customers to assist them in achieving an excellent quality pad. In some areas Kingspan can recommend contractors who have previously prepared quality pads for our tanks.
In some circumstances, your tank may need to be installed on a concrete ring beam, instead of sand or crusher dust.
Once the tank has been installed the customer is required to place an exclusion zone of a minimum of 20mm blue metal/coarse aggregate (no clay or concrete) around the base of the tank to prevent erosion and deter rodents from digging around the base.
Tank Service Every 5 Years
With a dedicated service department, our highly trained professionals will come out and service your tank to ensure that your water tank performs optimally. We can also assist whenever help is needed with your water tank.
Kingspan Rhino Rural Water Tanks have a five year service interval. When a water tank service is due, Kingspan Rhino will send you a service reminder so that you can make arrangements with our service team to get your tank serviced.
The service will include a complete check of the condition of the tank and surrounds from top to bottom, function of all tank components and the installation of new sacrificial anodes, which are crucial to protect your tank from corrosion.
Tank servicing starts from $308 (inc GST) to $616 (inc GST) inclusive of labour and replacement sacrificial anodes based on tank size and number of anodes being installed.
To ensure that your tank performs optimally, this service is mandatory for us to continuously offer the 20 year pro-rata warranty.

All Kingspan Rhino water tanks are made with a corrugated profile for incredible wall strength and durability. Add to this a 250mm overlap at the joints and a 200mm double bolt spacing, and what you have is pure Rhino strength. With the 12mm bolts being hot-dipped galvanized, corrosion won't stand a chance.
In order to ensure complete quality control, once manufactured, our tanks are then installed on site by our team of trained specialists. Tanks are manufactured as a kit and sent to site for installation.
See our full range of colours below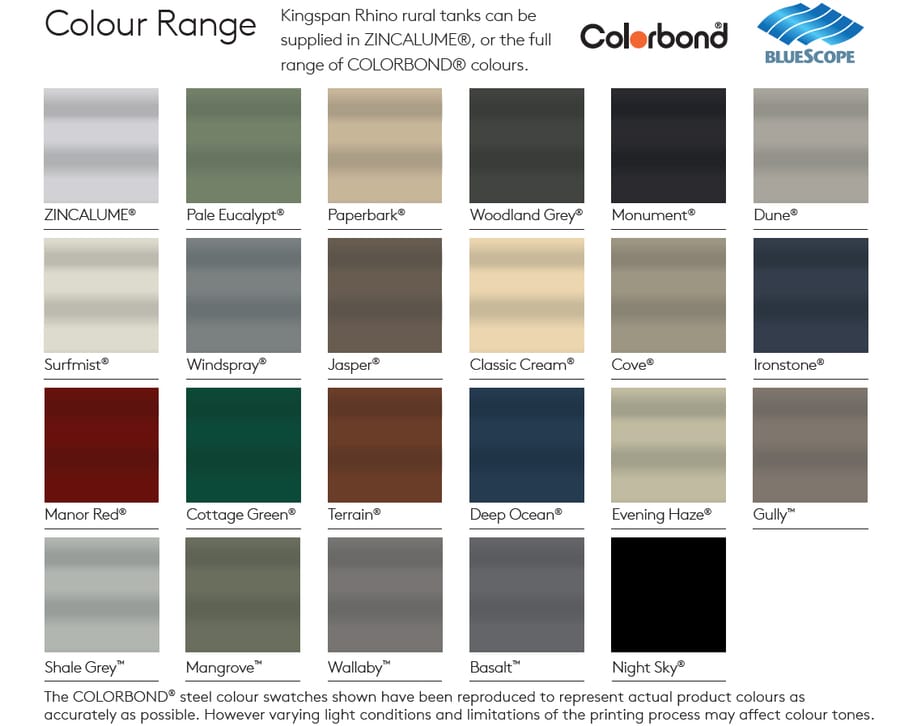 Warranty
All Kingspan Rhino Rural Tanks come with a 20 Year pro rata conditional warranty.
Delivery
Delivery charges may incur for certain areas, however most zones include free delivery.